For those of you that know me well, you've heard me say, "The best thing about design is that it's subjective." Now, of course everyone views a space differently and may not design a space the same way the next person would. That being said, most houses we come across speak a "vintage modern" design to me. Most of these houses are built in the early 1900s or even earlier. Restoring original floors, doorknobs/hardware, exterior elements, and even keeping the choppy floor plan are some of the things that we typically see ourselves doing to the older homes we work on.

We recently came across a project that is going to be completely different than what we are used to. I'm telling myself challenges like these are how we grow, because boy this project is a big one! This house, after renovations, will be 4,000 sq. ft. with a mid-century style from head to toe. These are both a footprint and a design style we haven't executed yet. Are we stoked? Oh my god, we couldn't be happier! From a designers perspective, am I full of excitement and anxiety? YES, I am. You may be asking why I'm picking mid-century if it's a challenge for me design-wise. I'm a firm believer that the space determines the design, not me. Mid-century homes are known for bringing the outside elements inside and this house is close to downtown but still on 1.3 acres of land with very tall trees. Now, picture tall wood arched ceilings, big windows, some abstract features with an open floor plan. Then, envision walking out onto a vast deck that leads you down to a large patio and looking up to see that you're surrounded by huge trees in the middle of the woods. It sounds magical, right?!

Since we are working on our scope of work and putting together our schedule with our sub-contractors, I figured I'd take some time to fill you guys in as to where we are design-wise right now. We have some major projects going into this house and I'm going to highlight a few of them to give you a concept of how the house will look.
Front Exterior
First, lets talk exterior. The exterior is made up of some gorgeous cedar planking that lays in a vertical style around the house (perfect for a modern vibe). We will be doing some major repairs to the siding and painting it a dark brown. We'll also be painting the wood frame windows black (so sexy!). Next, we will be adding some veneer stones to the front stoop area to give the space some texture. We'll also be installing a small overhang over the front stoop area to give the front of the house a little more dimension. After that, we'd like to instal a black metal roof for a more modern feel rather than the ordinary asphalt shingle look. Lastly, we will be redoing some sidewalk, and landscaping work out front. Now, my favorite part of designing the front exterior: the front door! Right now, I'm feeling an avocado green front door, but if you know me, you know the front door is always subject to change (maybe even a simple black to go with the window trim, who knows). Now, please forgive me as I am no artist and my watercolor concept drawing below is the quality of a toddler.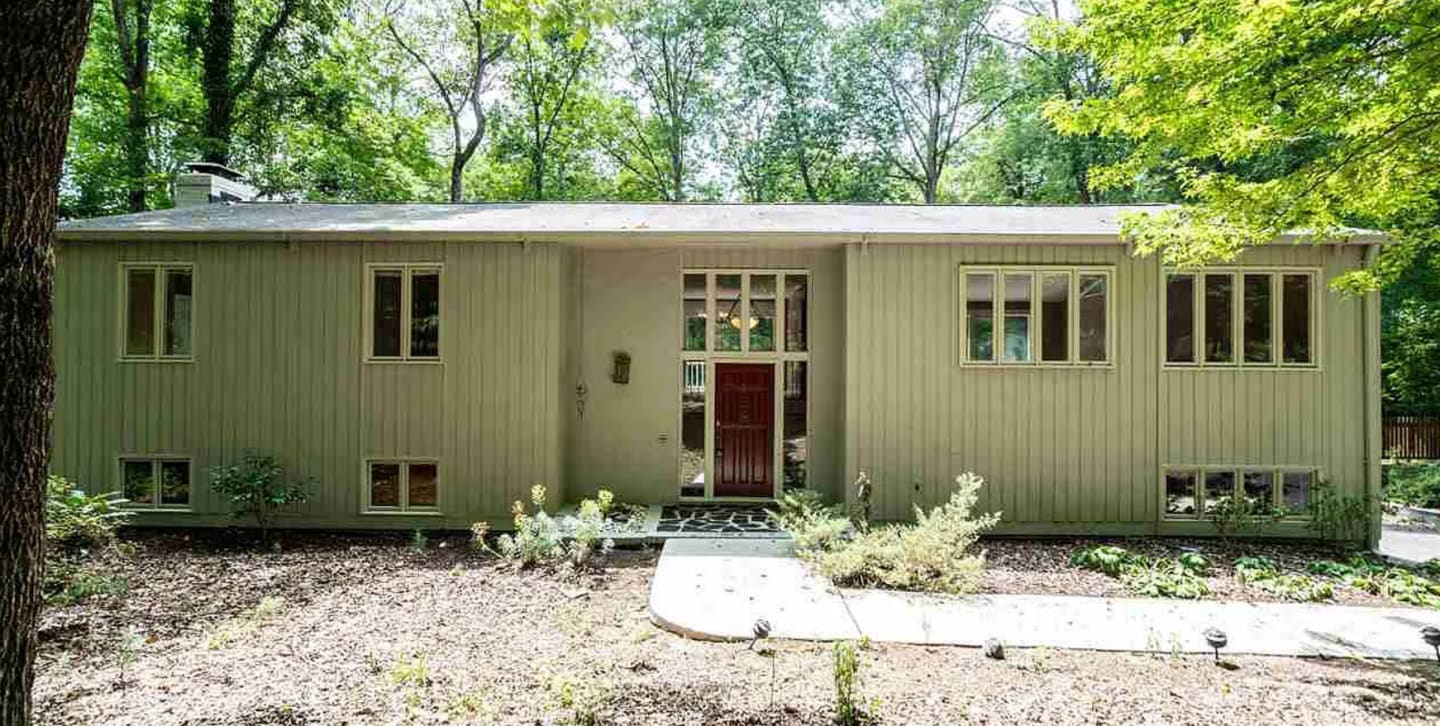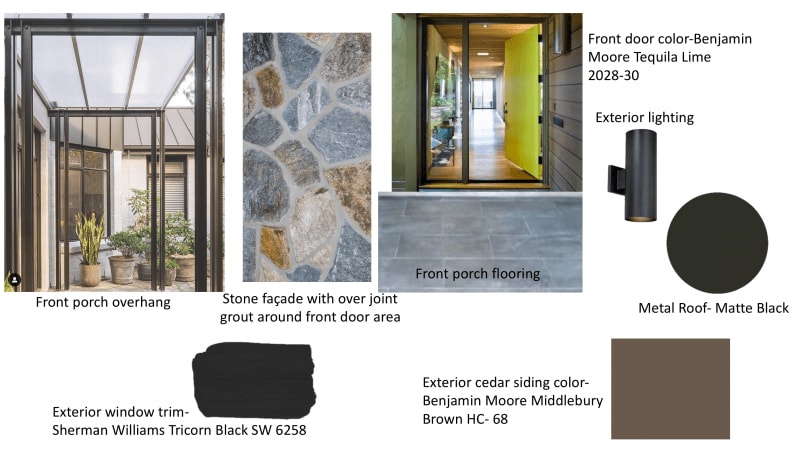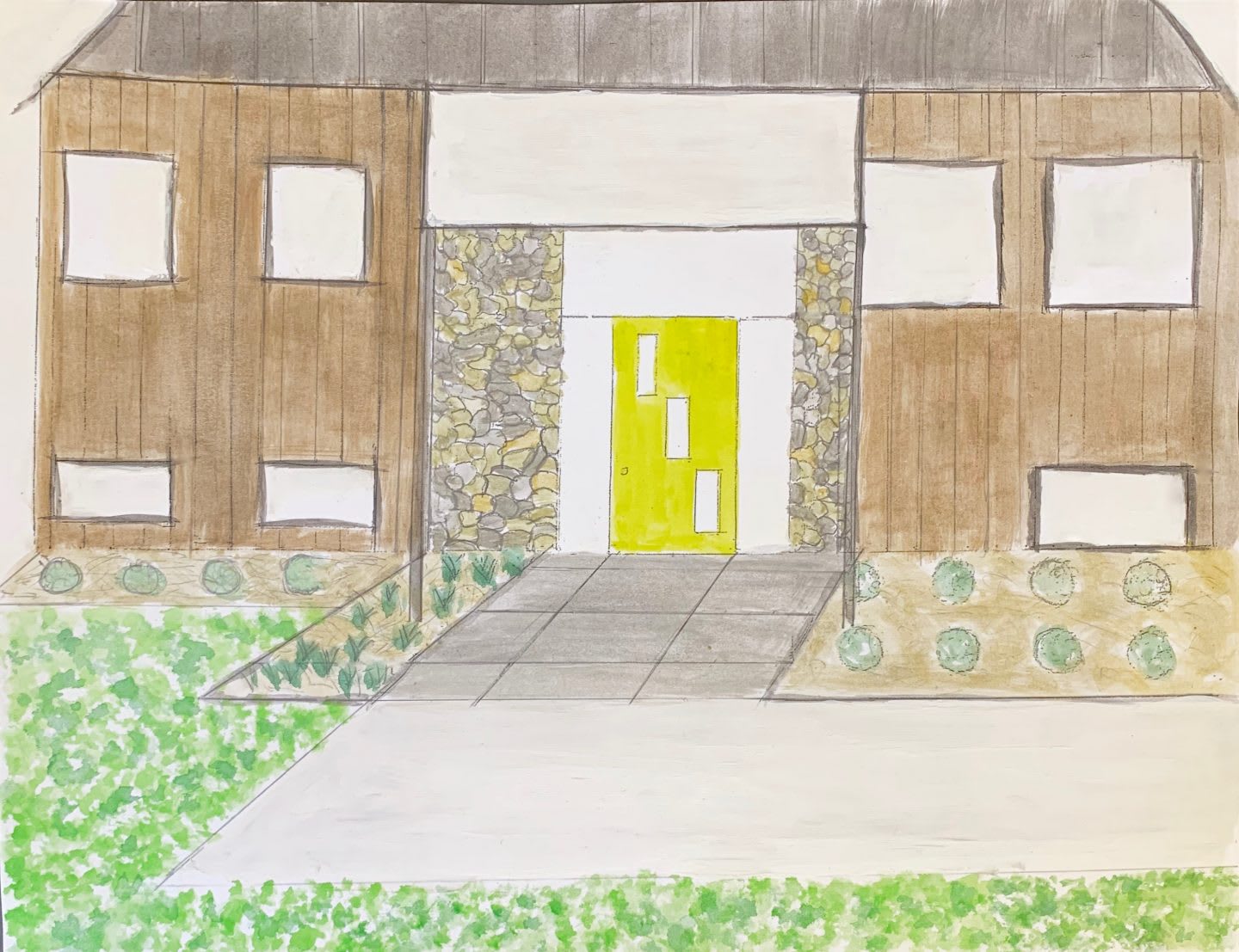 Back Yard/Exterior
Now that we touched on the front of the house and you have seen my quality artist work, lets talk backyard/entertainment area. Like I said before, the house is on 1.36 acres and backs up to Duke Forest. If you're a local to Durham, you are starting to piece together why I am thinking a mid-century vibe. Quickly before I get off topic, think Palm Springs trendy mid-century homes with a mountain backdrop. Same concept here when you're near Duke Forest, except you are in the woods instead of in the Coachella Valley. That being said, if we are admiring the nature around us, we need a good entertaining spot to do that, right?! We will be taking down the current deck as it's in rough shape and definitely not to code. We will be recreating a deck that is accessible through two bifold accordion doors off of the kitchen and living room. The new deck will then have steps that lead to a modern paver style patio.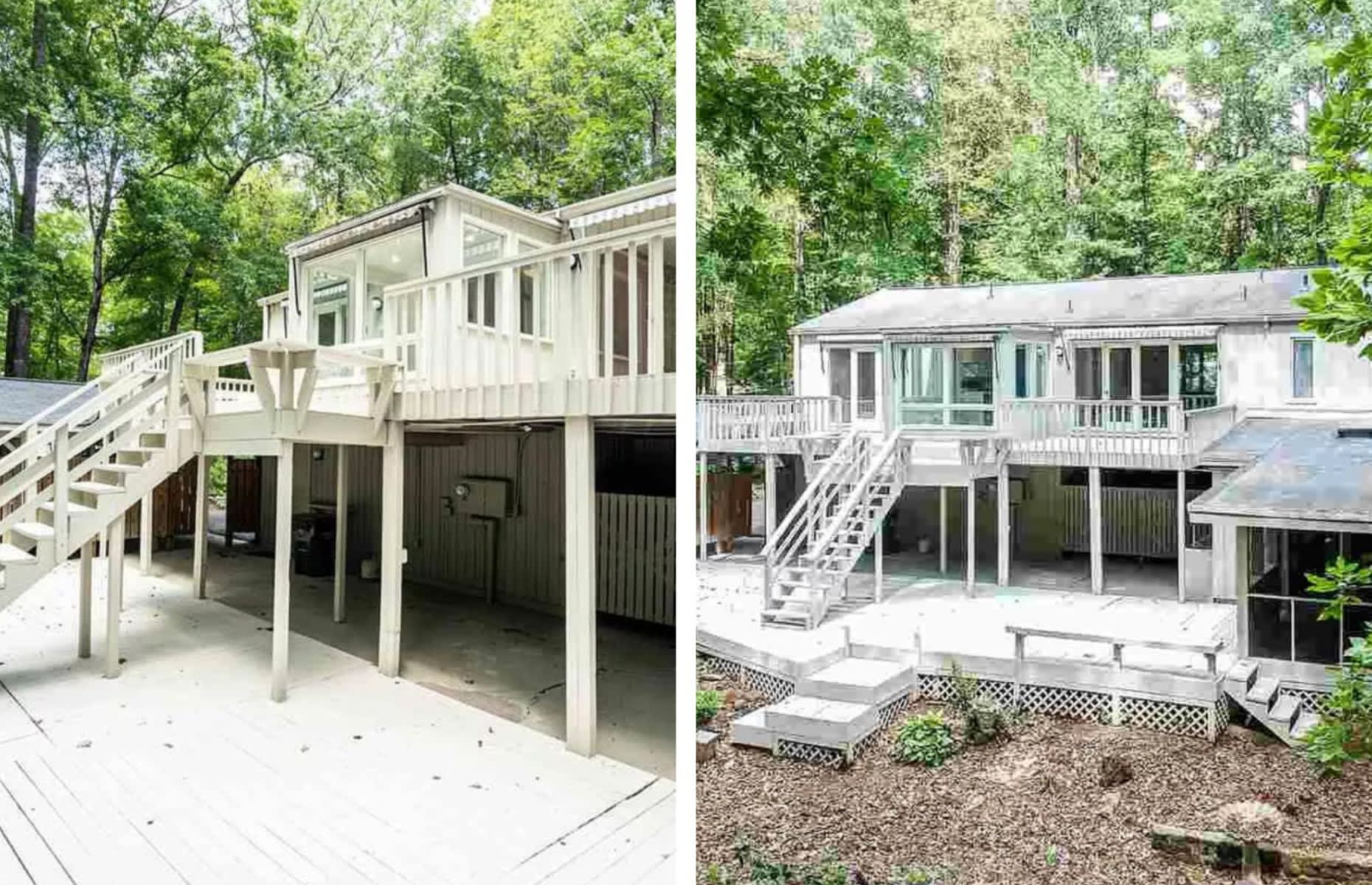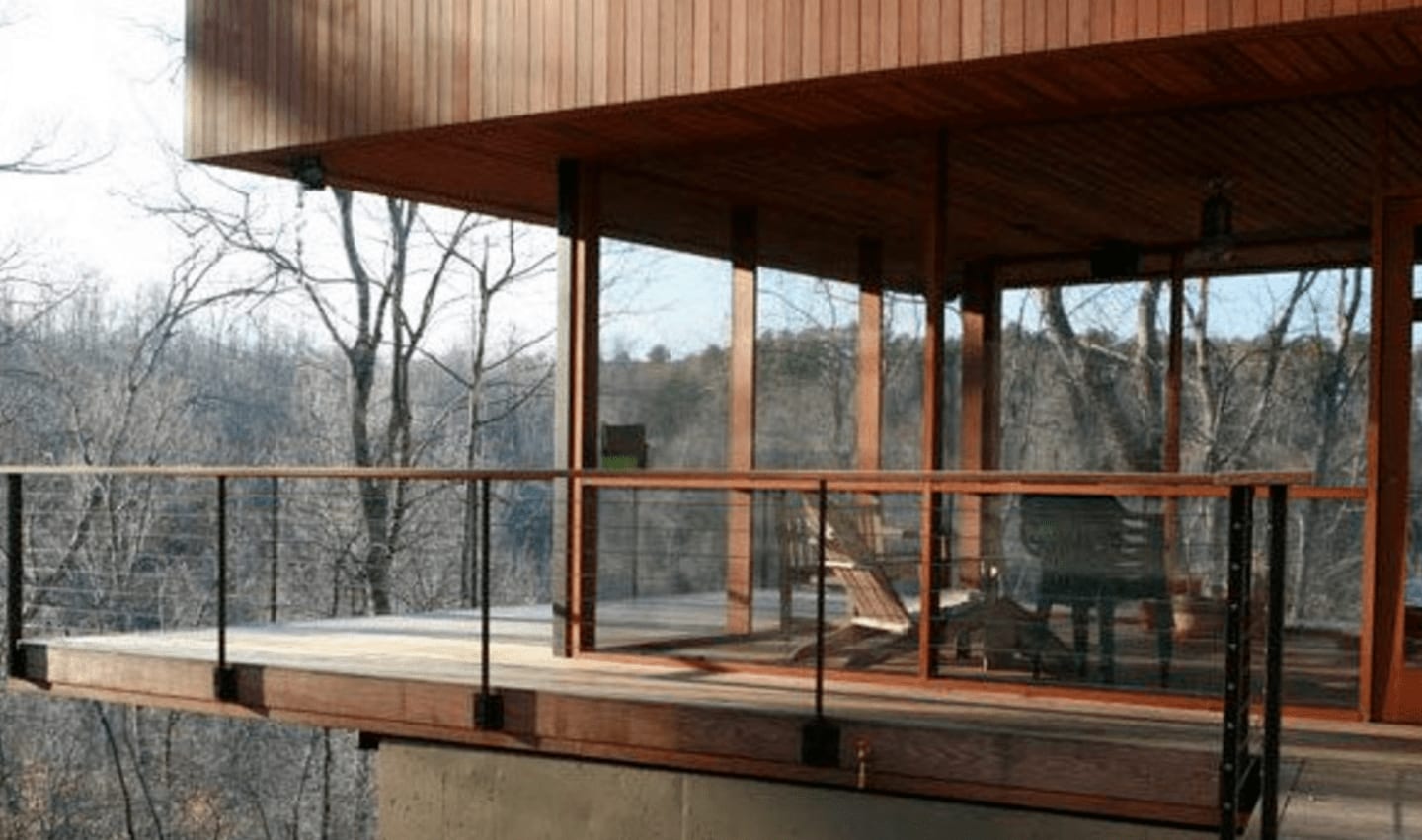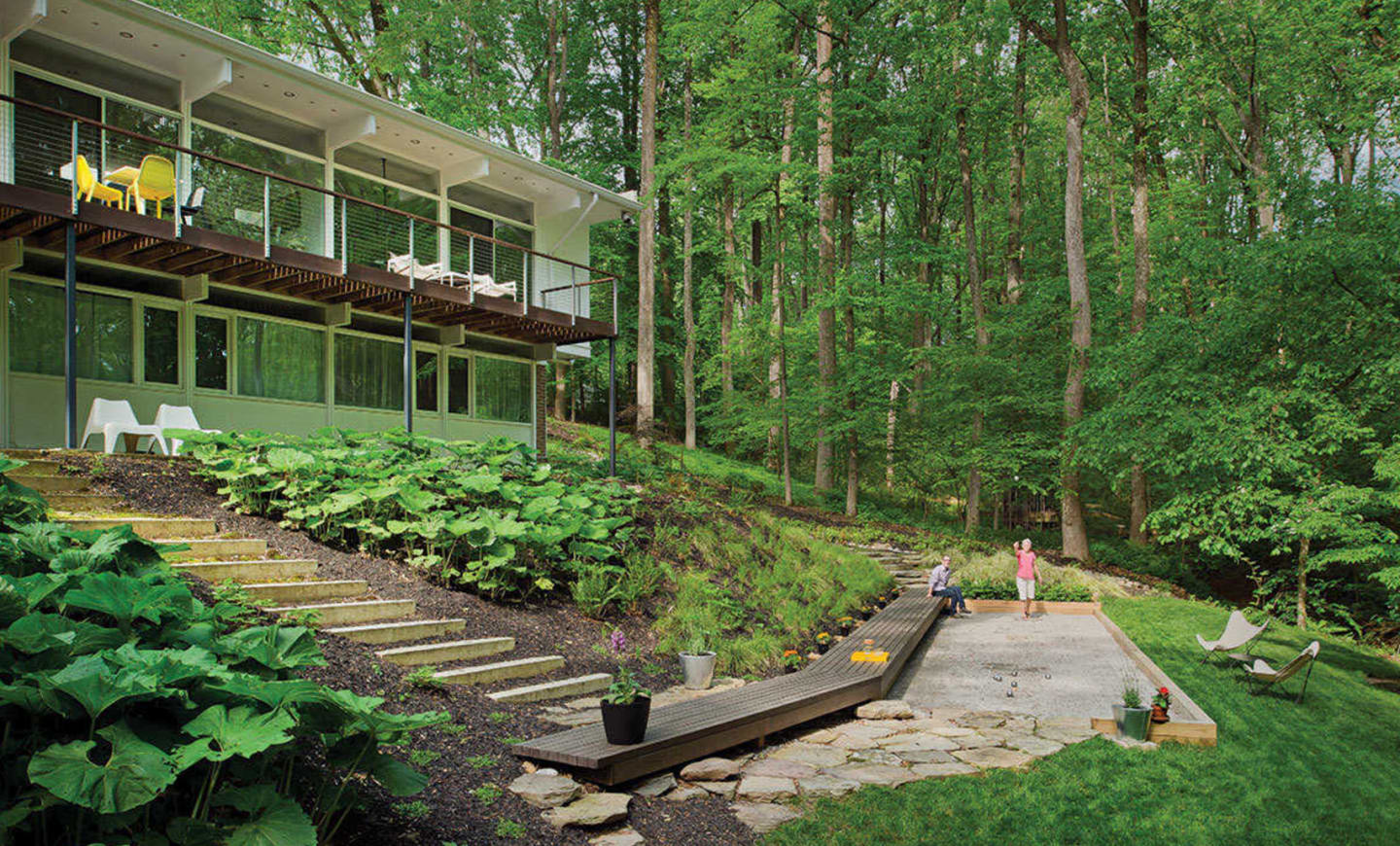 Photo Source: Mid Century Home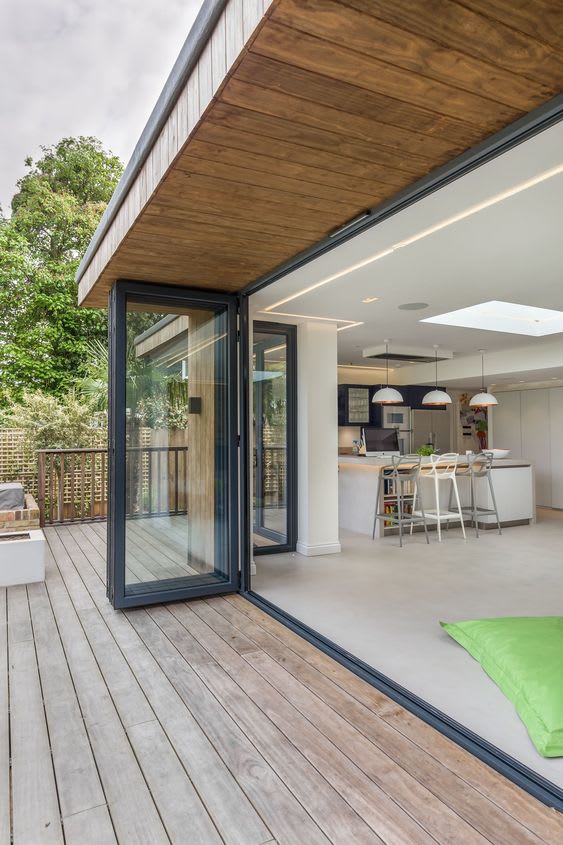 Photo Source: Unknown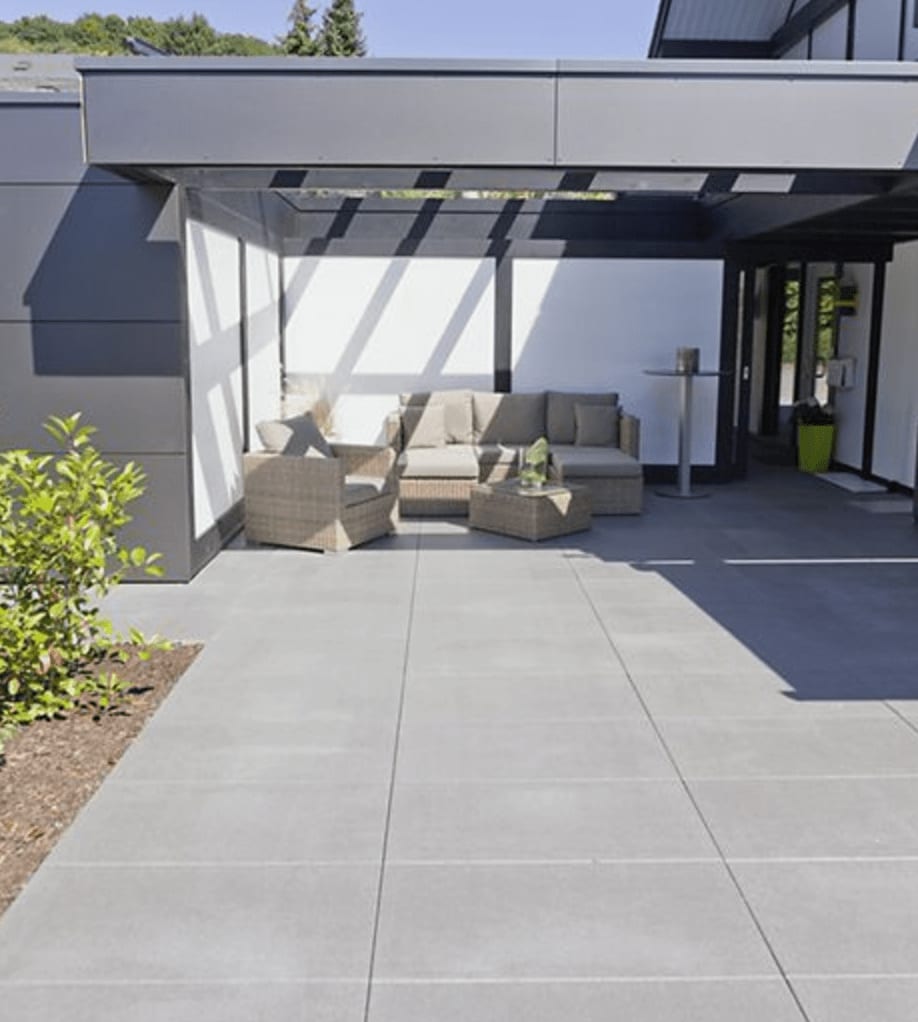 Now, let's move on to the interior. Whether it be moving the kitchen to a big open space, creating a media room/hangout area or moving the master to a different floor, we have a lot of big projects going on inside to make better use of the space.
The Foyer
Right now when you walk inside the home, all you see is carpet and popcorn ceiling (YUCK). Are you surprised? I'm not. The 70s were a weird era for a few reasons (like carpet and popcorn ceilings just to name a few). When you walk into the foyer, we will be redoing the railings with cables and wrought iron, hanging a beautiful retro chandelier, retiling the floor and redoing the stairs to match the new hardwood floors. Personally, I am obsessed with the millwork we want to add to the half wall! As soon as you walk in the front door, the half wall that the railing sits on is straight ahead. I'm thinking of adding some millwork to the wall for some fun texture.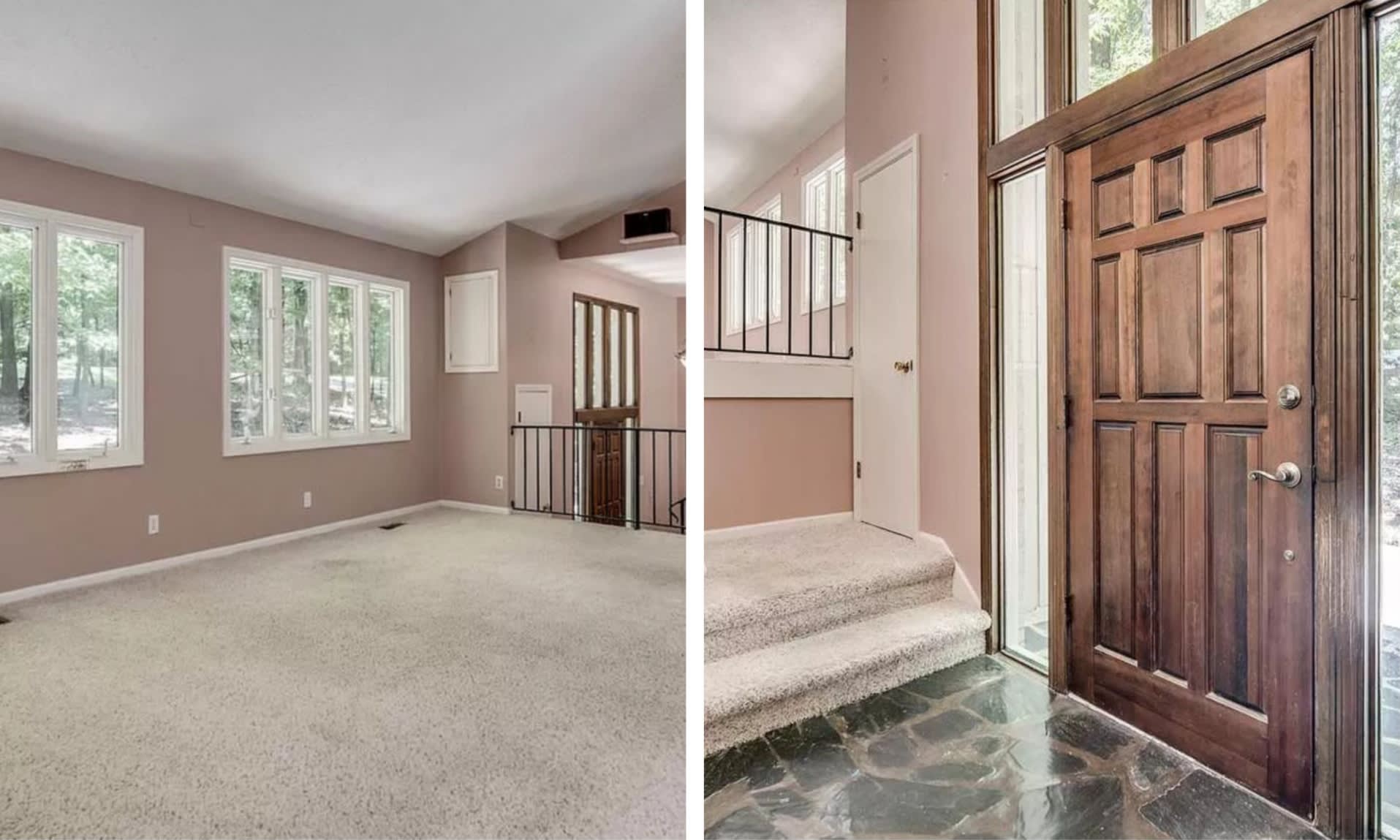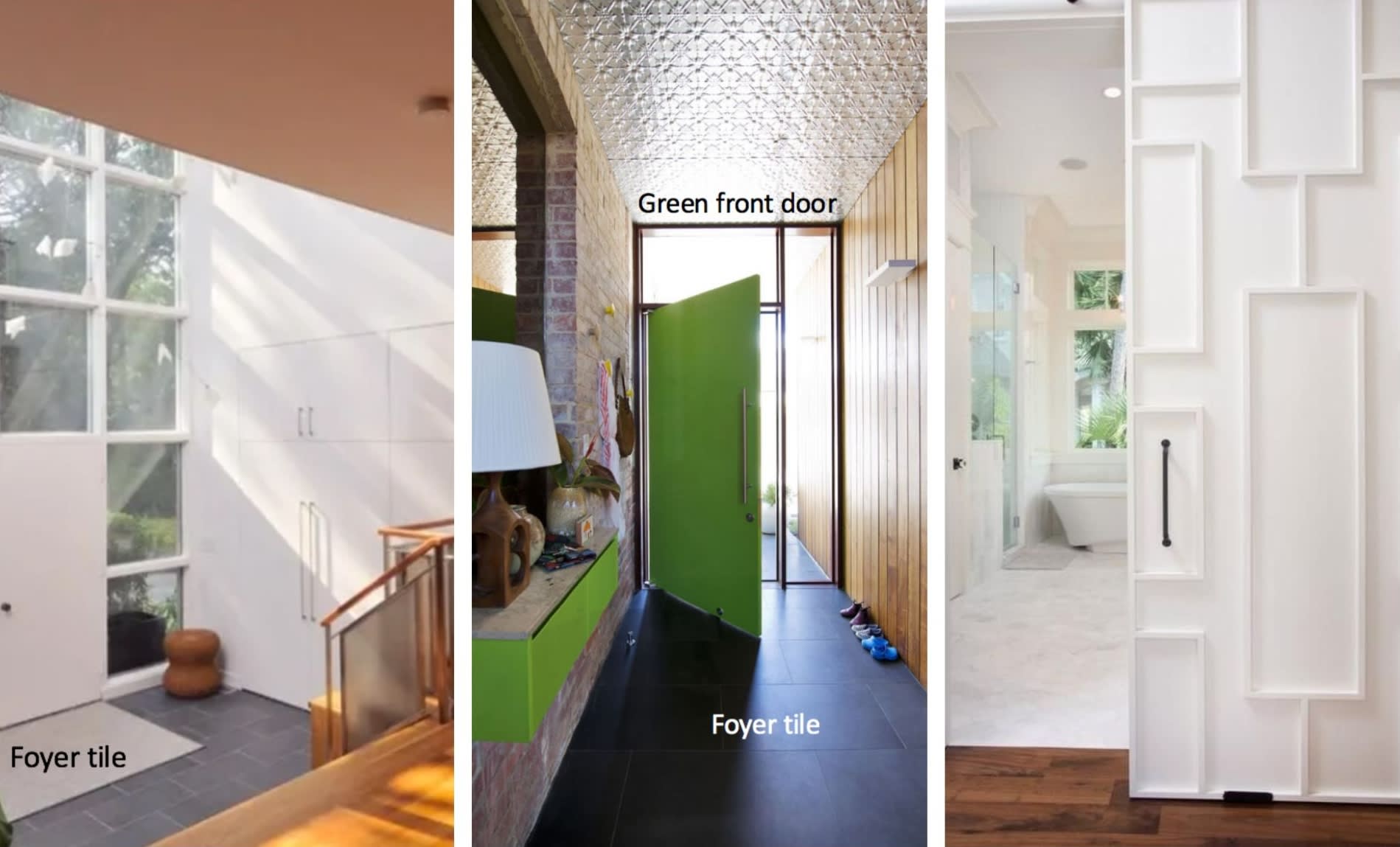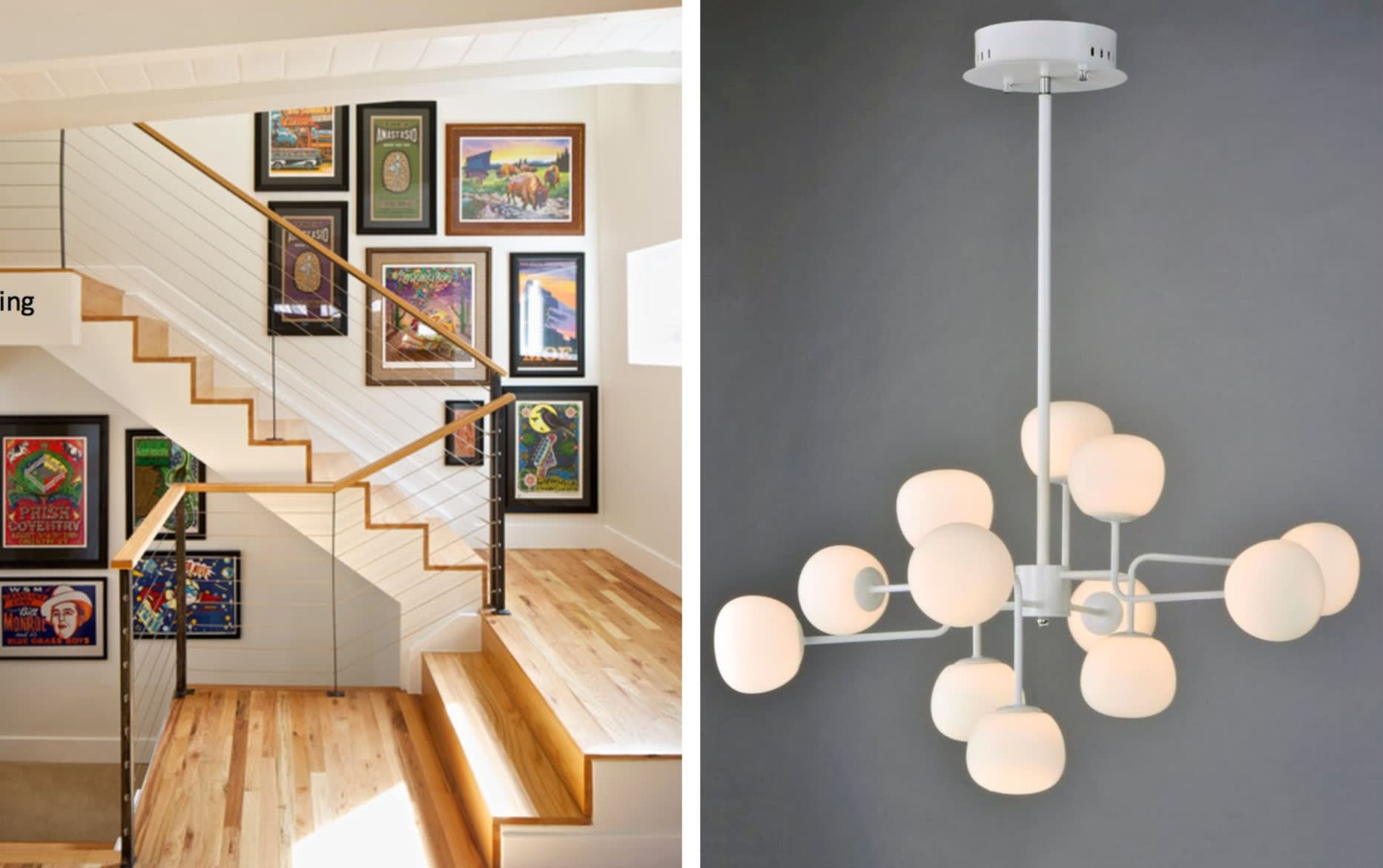 The Kitchen
Okay, you're still in the foyer and now you're walking up the stairs. Half way up the open staircase, your eyes see a huge open kitchen off to the right with a bold waterfall island, big windows and a open dining room nearby. When you have a potential client walk into the house, you have seconds to "wow" them. The kitchen is going to do just that. For the open kitchen, we are going to go with oak cabinets with finger channels, a simple vertical stacked white subway tile, a vagil Marble or Quartz countertop with a chrome faucet/pot filler and finally some subtle but funky pendant lighting hanging from the wood paneled vaulted ceilings.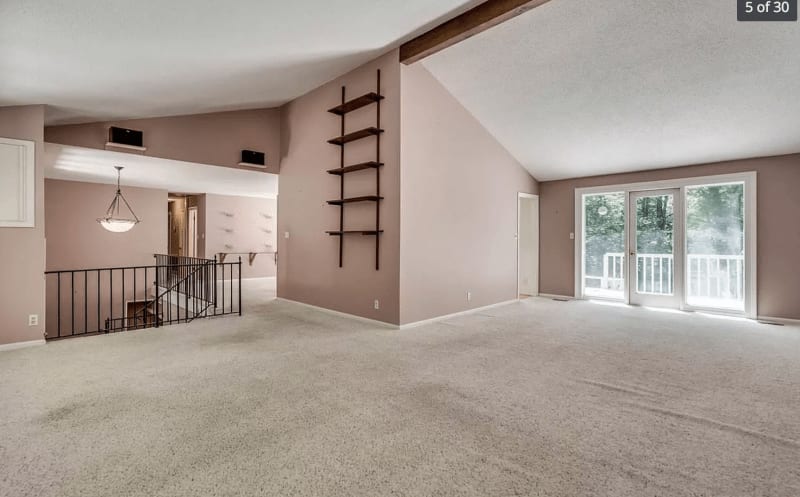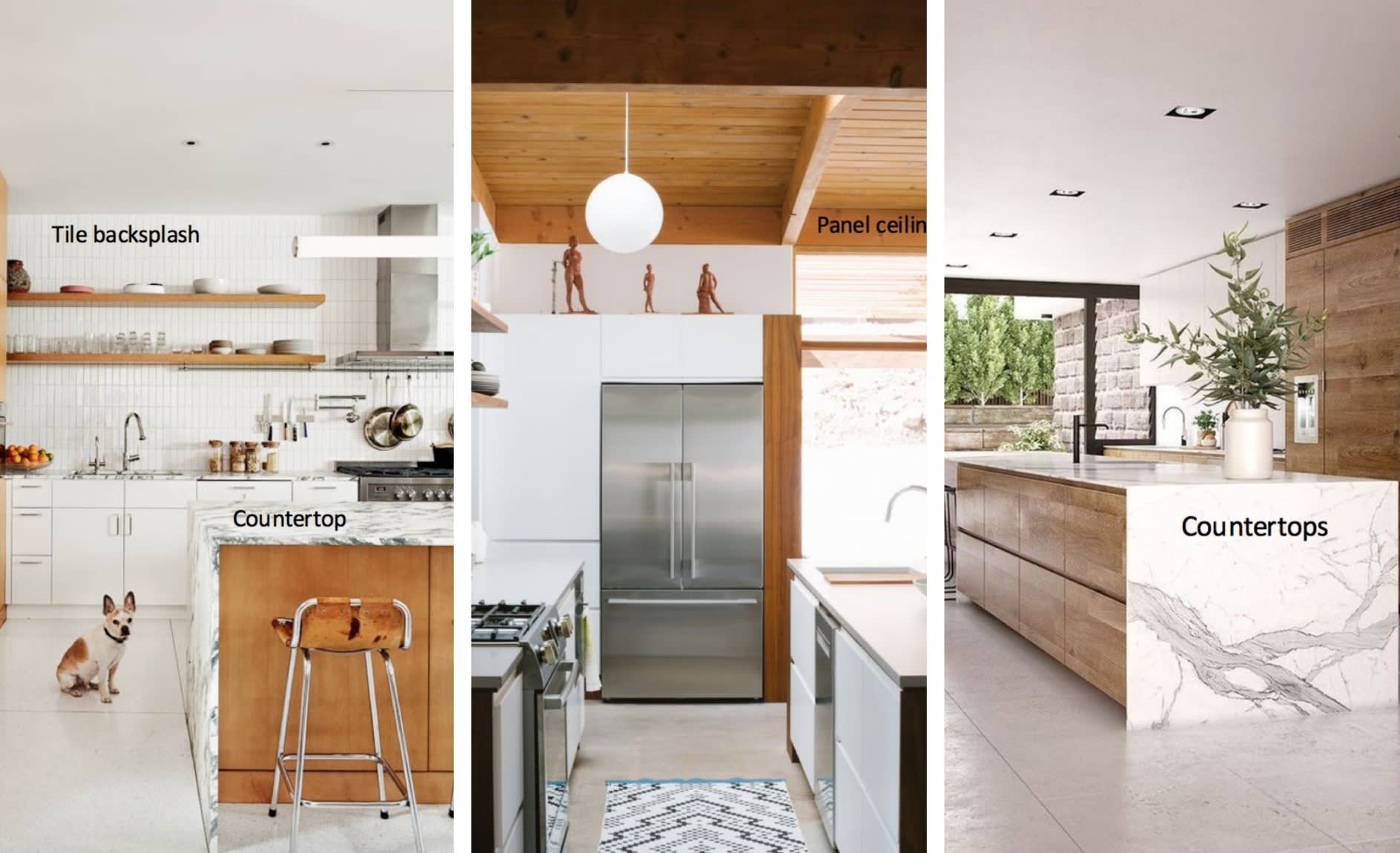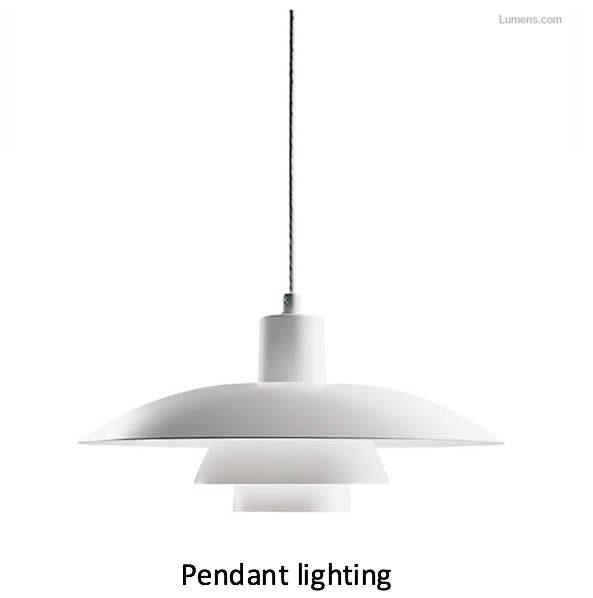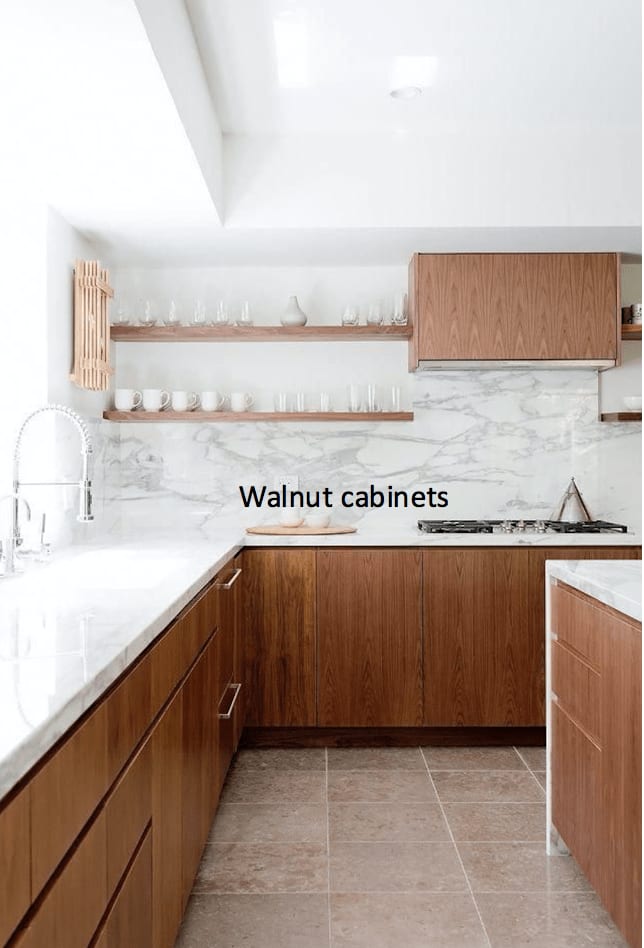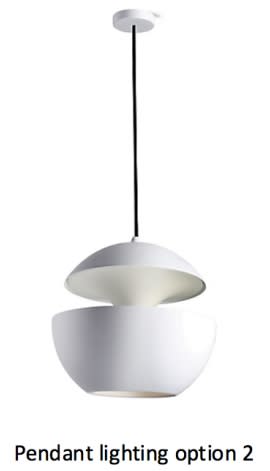 The Dining Room
While you are cooking in this show stopper kitchen, you can easily set the table for a dinner party as your dining room will be within steps of your kitchen. The original plan was to remove all the walls, which wasn't possible. One of the walls running down the middle of the house is holding up the roof line (a load bearing wall). If we were to take the wall out, we would have about two support posts probably 7 ft apart to support the roof properly. To me that is creating dead space. So instead of using exposed posts, we are going to be creating a stone feature wall used with the same stone on the exterior facade. This dining room is going to be such a fun place to entertain!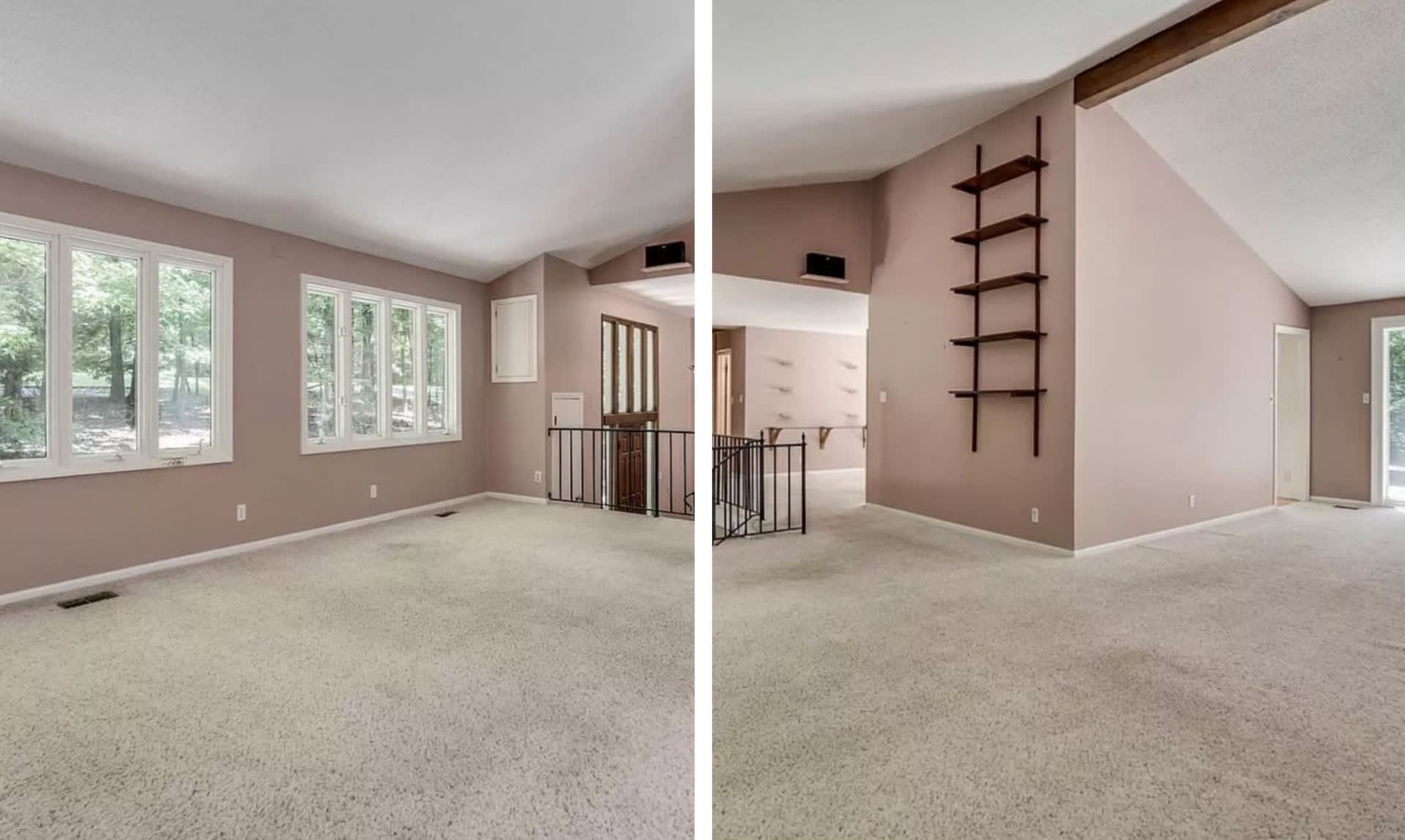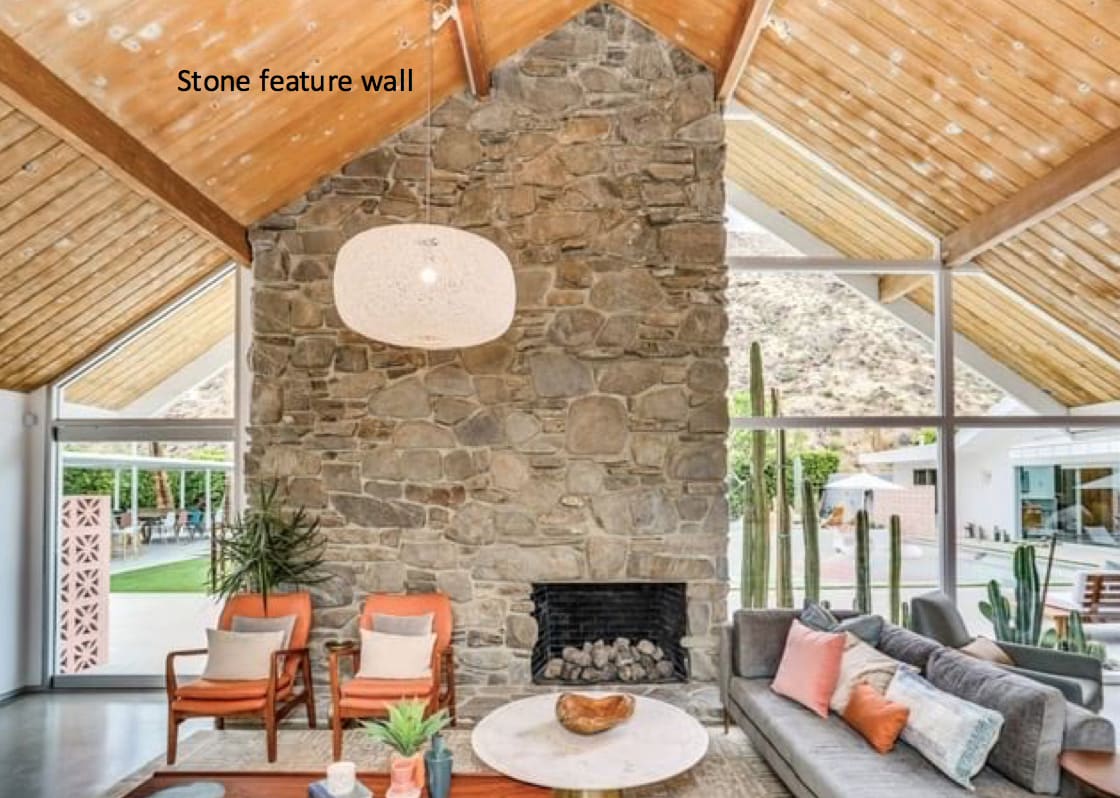 Photo Source: Mid Century Home
The Master Bedroom
This project is similar to the kitchen in the fact that we are moving the master bedroom into a different room than where it currently resides. We are converting an existing hangout room/second living space into the Master bedroom with a private sunroom (off the suite). For the most part this room will be down to the studs. We will be doing new drywall, new floors, updating the wood burning fireplace, putting up a wall between the bedroom and bathroom, turning an entire room into a master walk-in closet, along with a new ceiling and new lighting. The bathroom will have a zero entry shower with a floor to ceiling window looking outside (hopefully – plumber is still verifying it's possible), and a single glass panel for the shower door, a double floating vanity that runs into a make up counter/area and toilet separate from the rest of the bathroom. Since we decided to go with a bigger grand shower, we don't have the adequate space for a master bathtub at this time.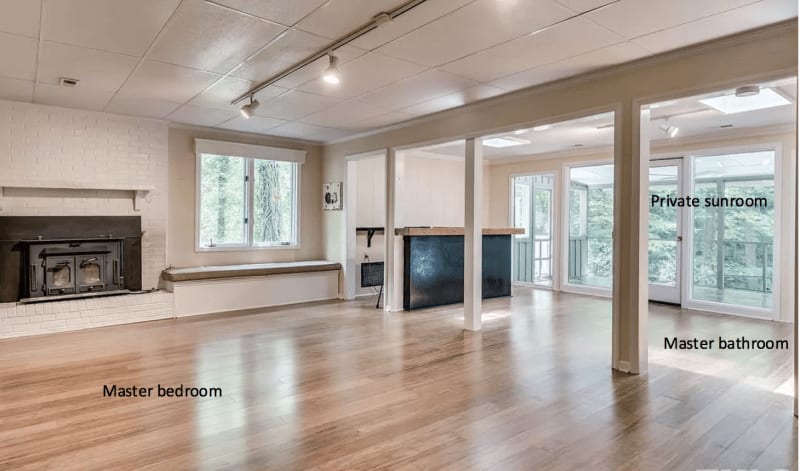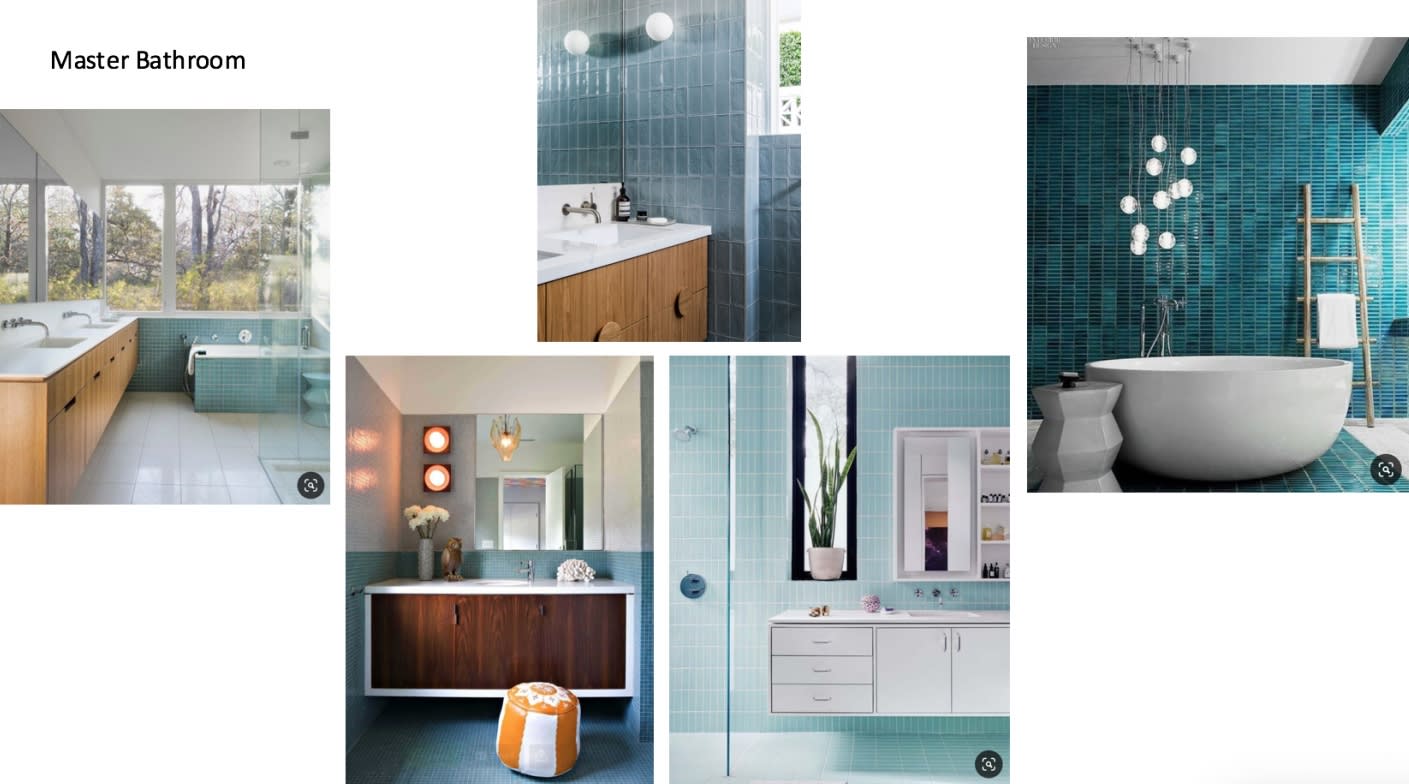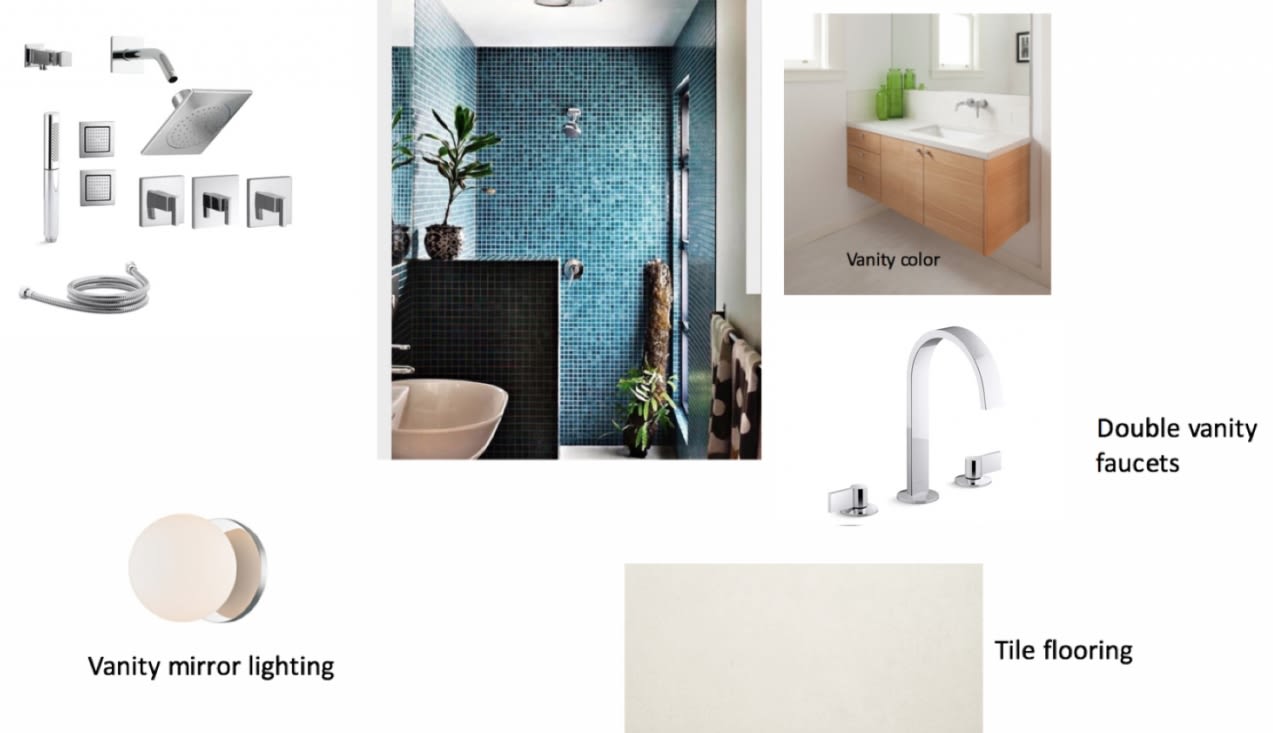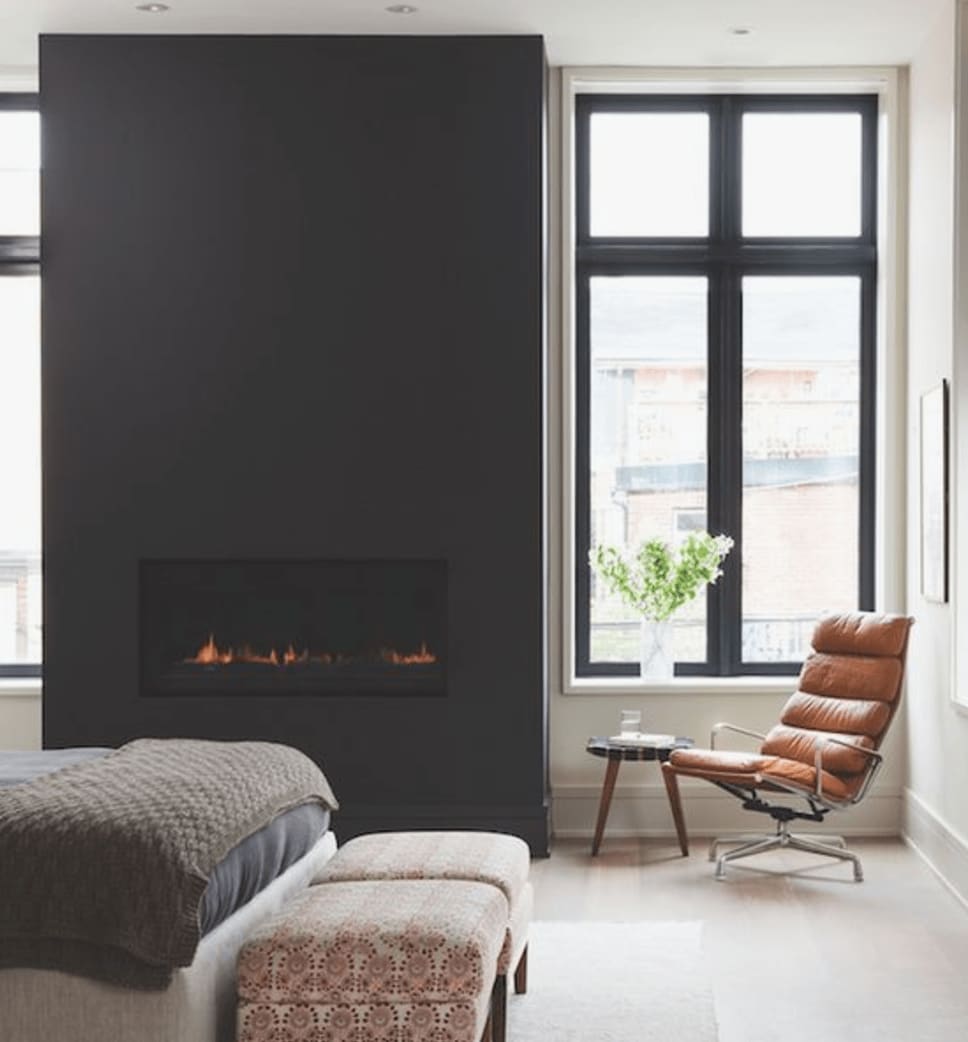 The Living Room
In the living room, we will be adding a fireplace and some bifold doors that will lead to the deck outside (like we talked about before). This room will be in the center of the house, so it should be a very welcoming and comfortable space. The fireplace and doors should accomplish just that.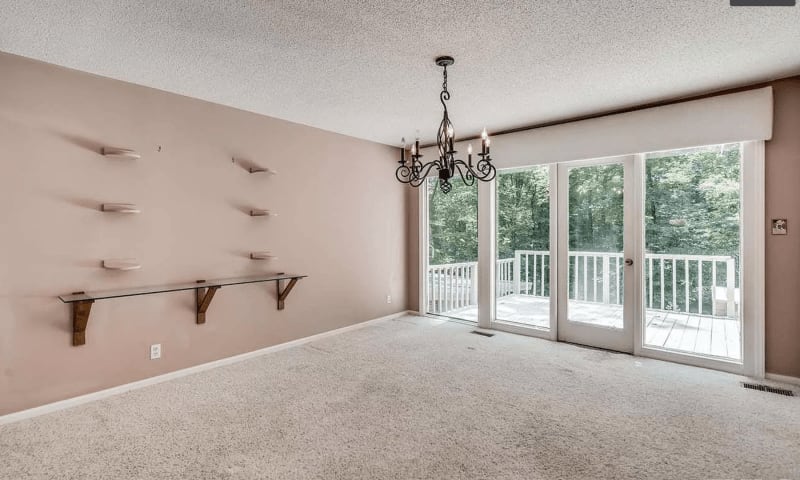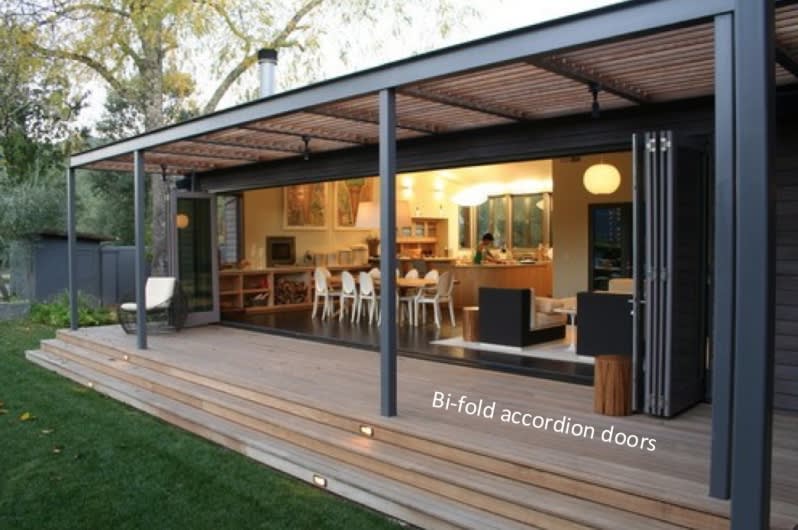 Modern Porch design by San Francisco Architect Lorin Hill, Architect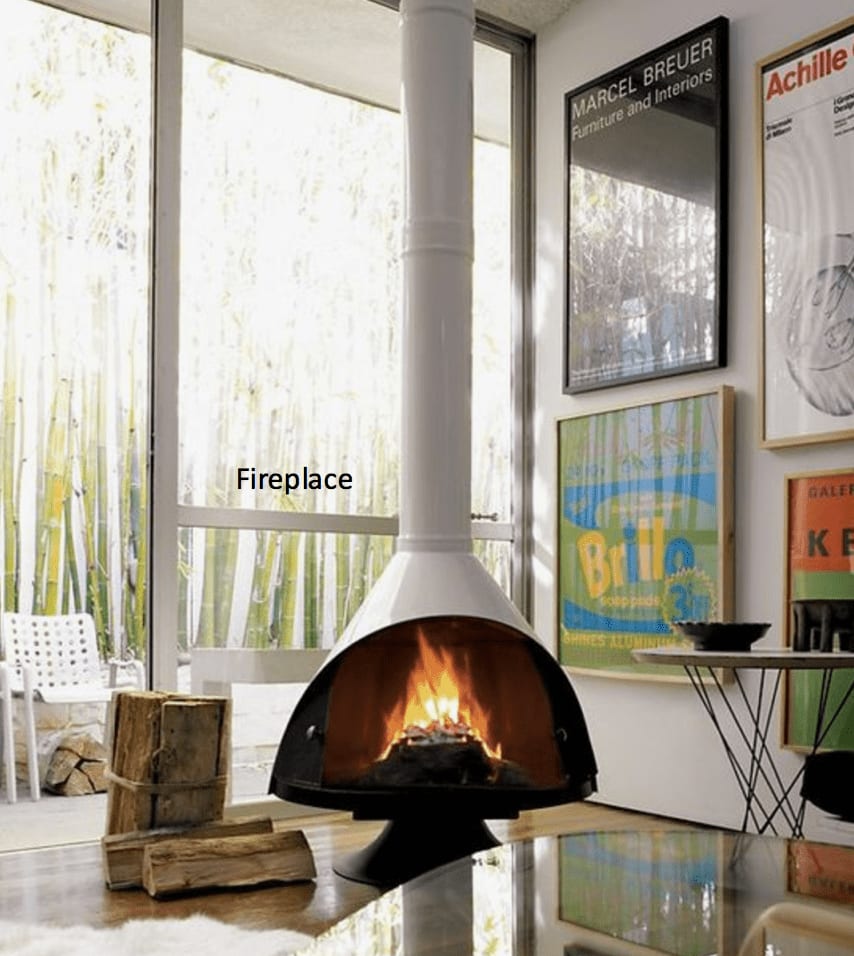 Photo Source: Design Within Reach
Bathrooms
The fun part of this particular project is the amount of bathroom renovations we get to do. Now instead of picking a trendy mid-century tile for each space, I'm really feeling more of a color blocking design. In my head, I feel that the era we're recreating is inarguably colorful. To make the house feel both timeless and true to its time, the color blocking bathrooms will really stand out but also fit in! The bathrooms will have a simple white quartz countertop with no veins, a light stain floating vanity, a light stone tile flooring and chrome finishes. We also will be doing some work in these bathrooms like moving a few walls, putting in a shower rather than a tub, etc. As far as color pallet goes, I'm feeling a pastel olive green, a pastel yellow, white and don't forget the blue for the master!
Bathroom 1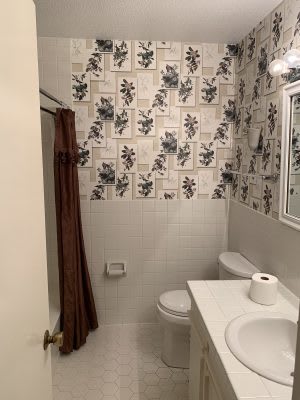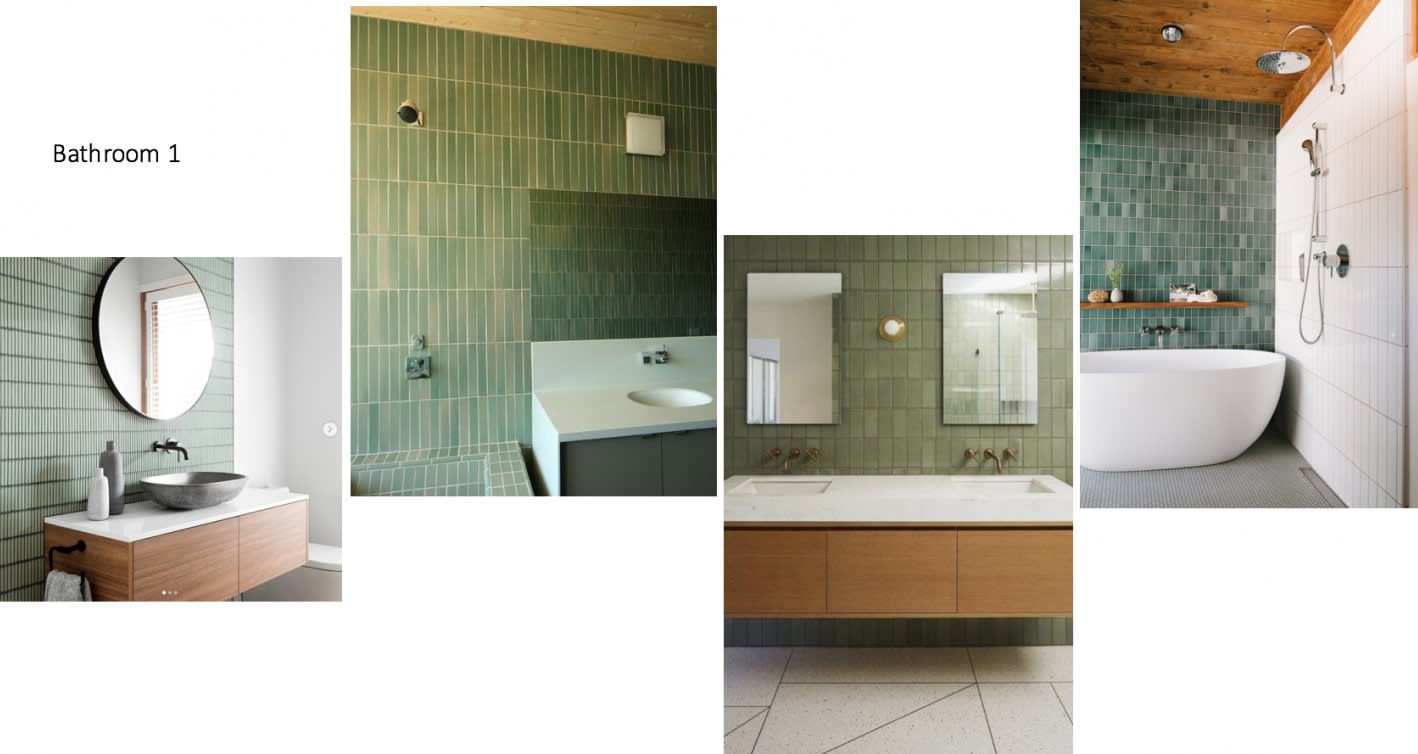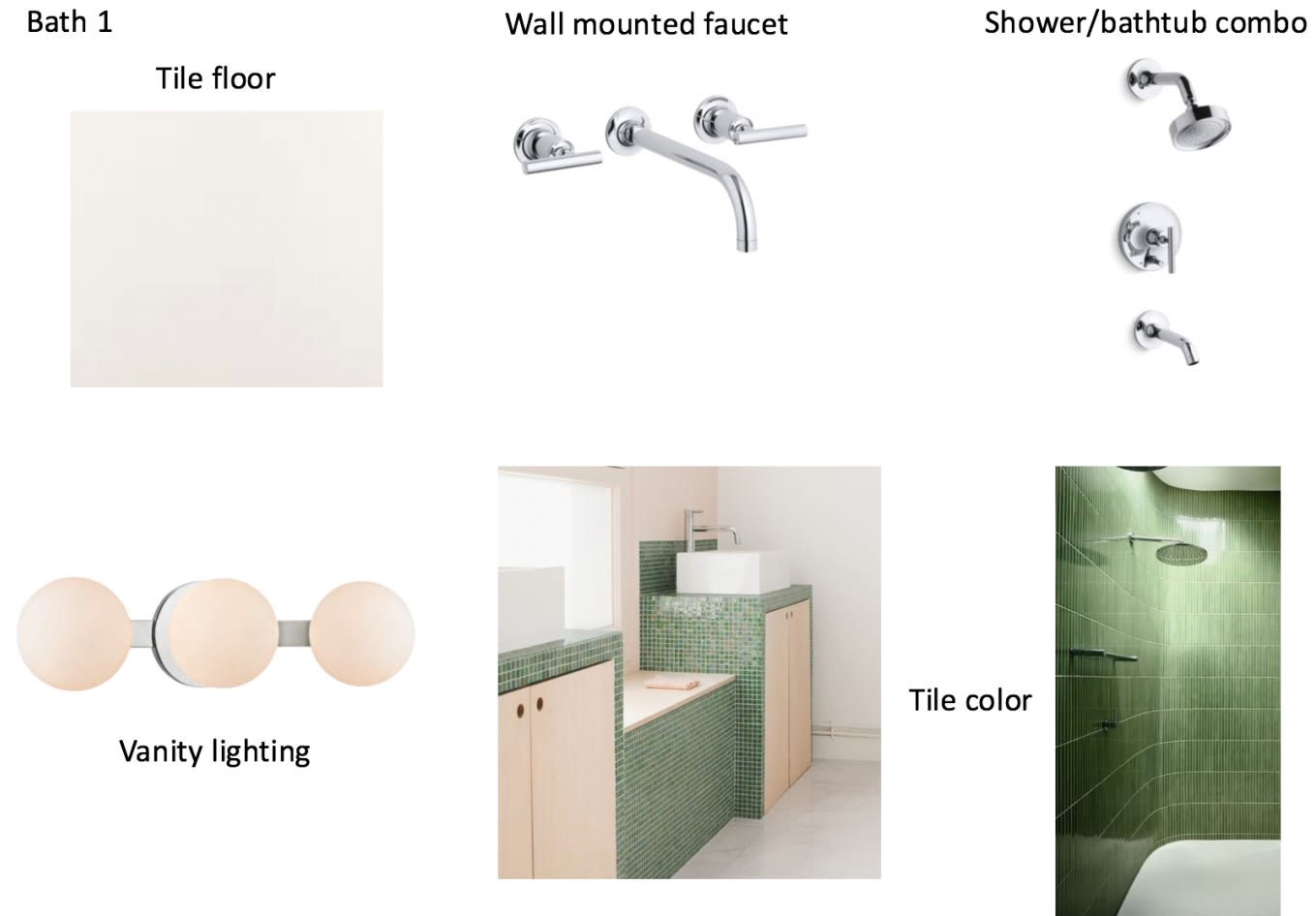 Photo Source: onecoastdesigns.com, homes.nine.com, pinterest.com/shabychicbathrooms, lumens.com, us.kohler.com, unknown
Bathroom 2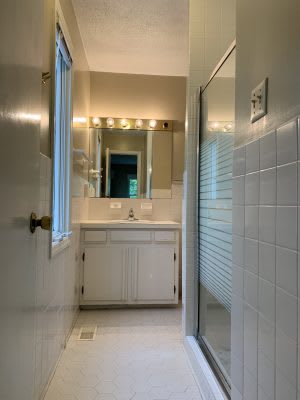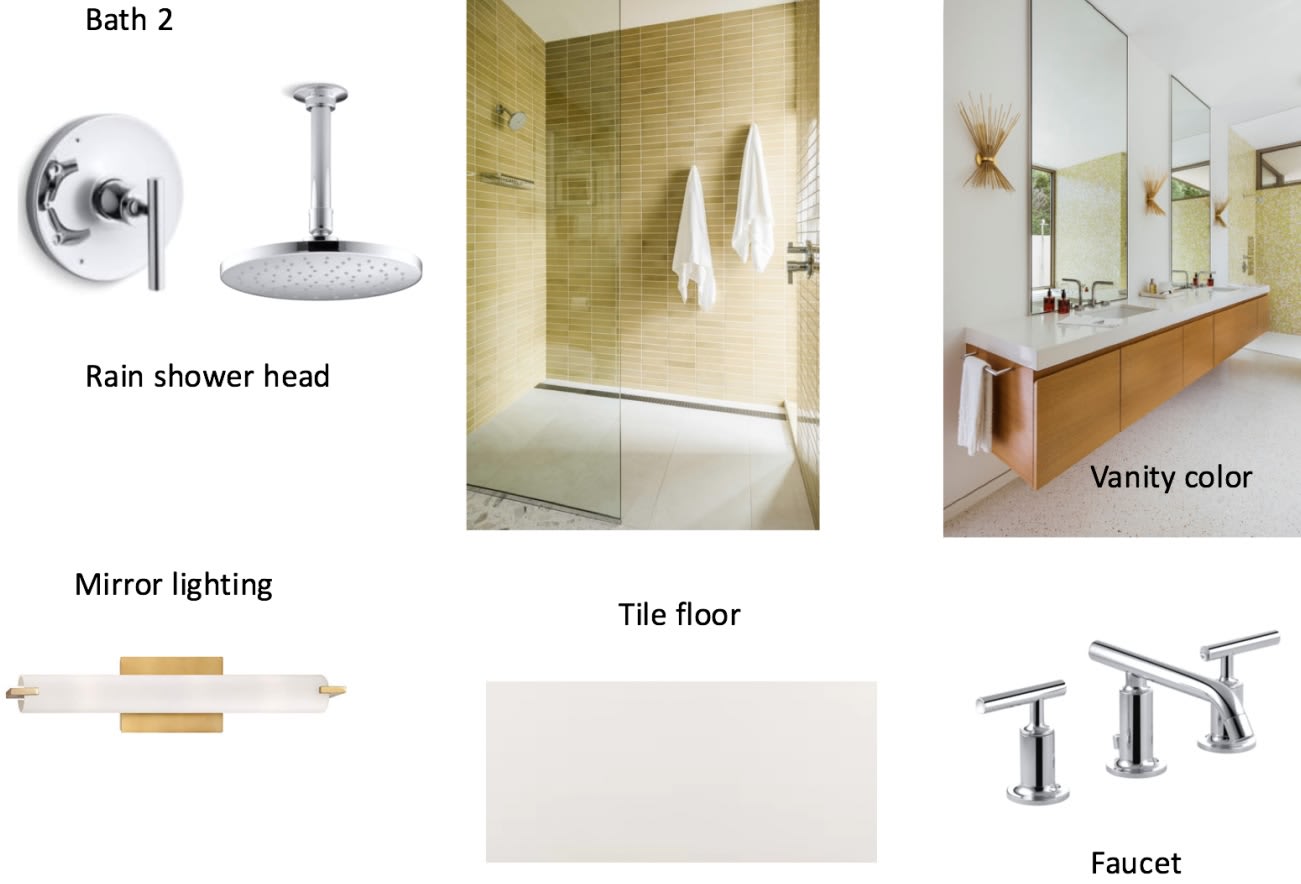 Photo Source: archdaily.com, lumens.com, us.kohler.com, unknown
Bathroom 4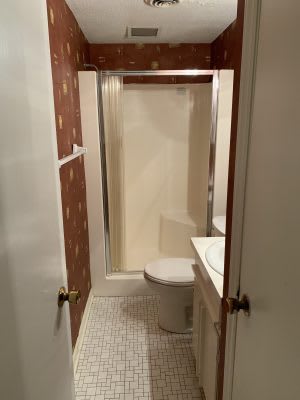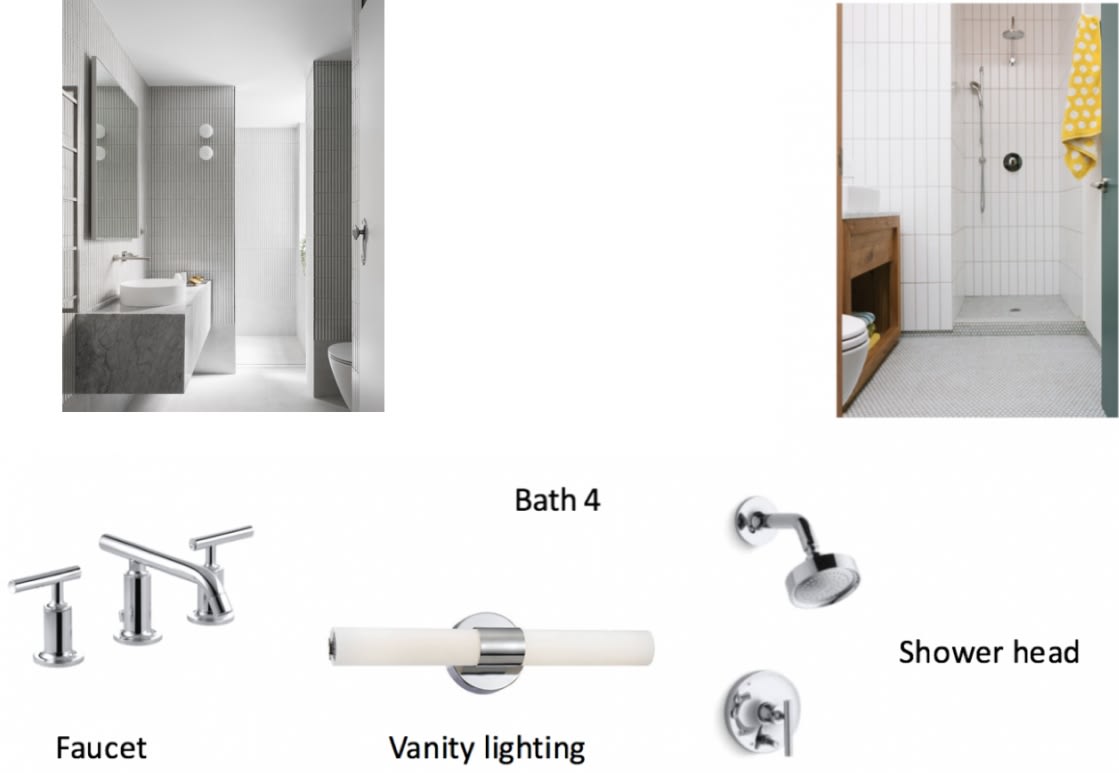 Laundry Room and Media Room.
The bottom level towards the front corner of the house (near the driveway) is currently a workshop area. Looking at the drawing below, you'lll see that we are breaking the workshop space into a media room and a laundry room. Both of the spaces will actually be large in size, even though they are "sharing" an existing room. From the existing hallway, you will walk directly into the media room. Around the corner from the media room will be an entrance to the laundry room.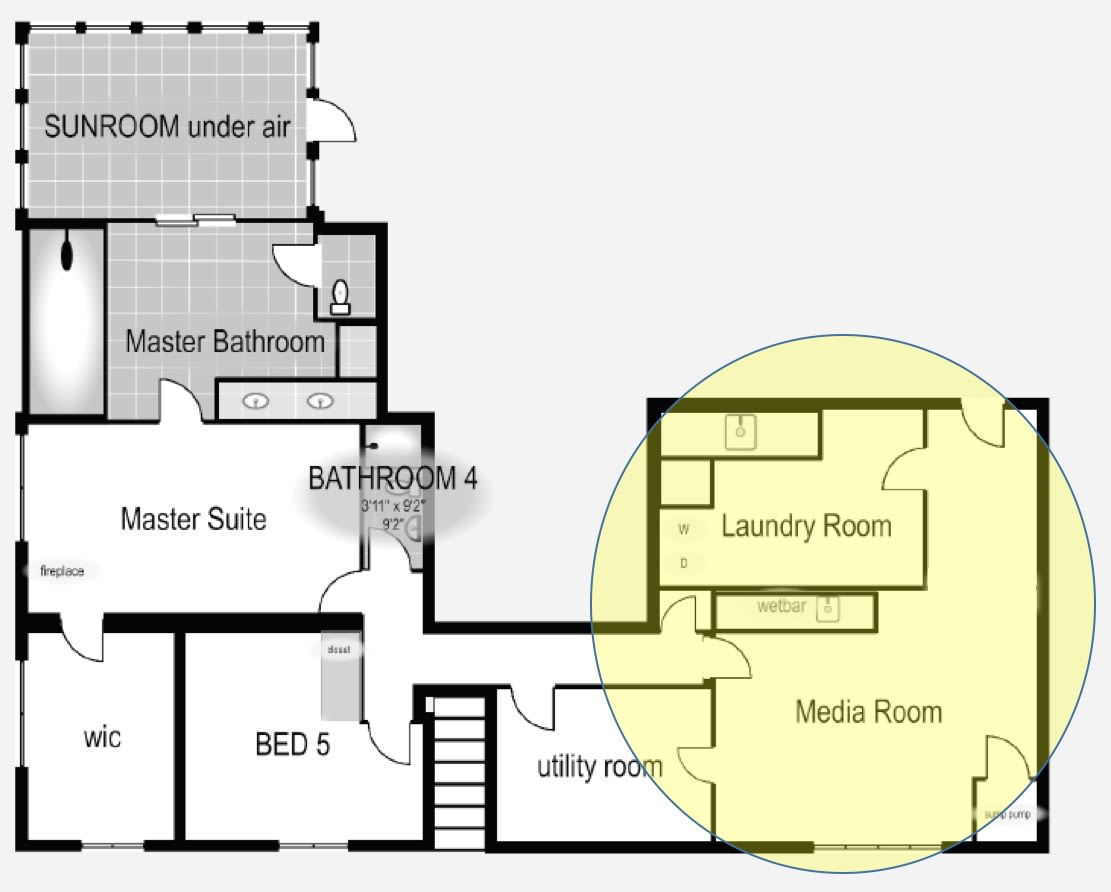 Media Room
The media room will have a wet bar (same color as the kitchen cabinets) with a wine fridge and tons of storage space. The rest of the media room will be open for the most part besides a handful of shelves for organizing/decorating along one of the exterior walls.
Photo Source Luxe daily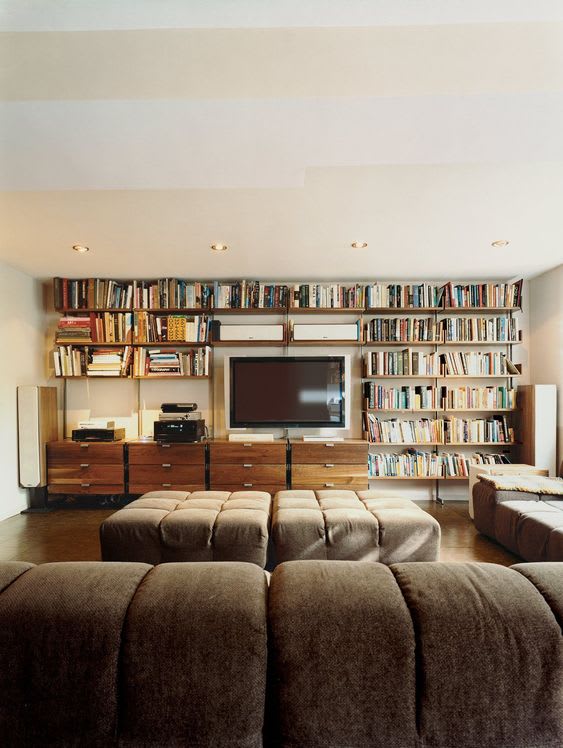 Photo Source: Delightfull.eu
Laundry Room
As far as the laundry room goes we will be installing cabinets around the washer, dryer and sink.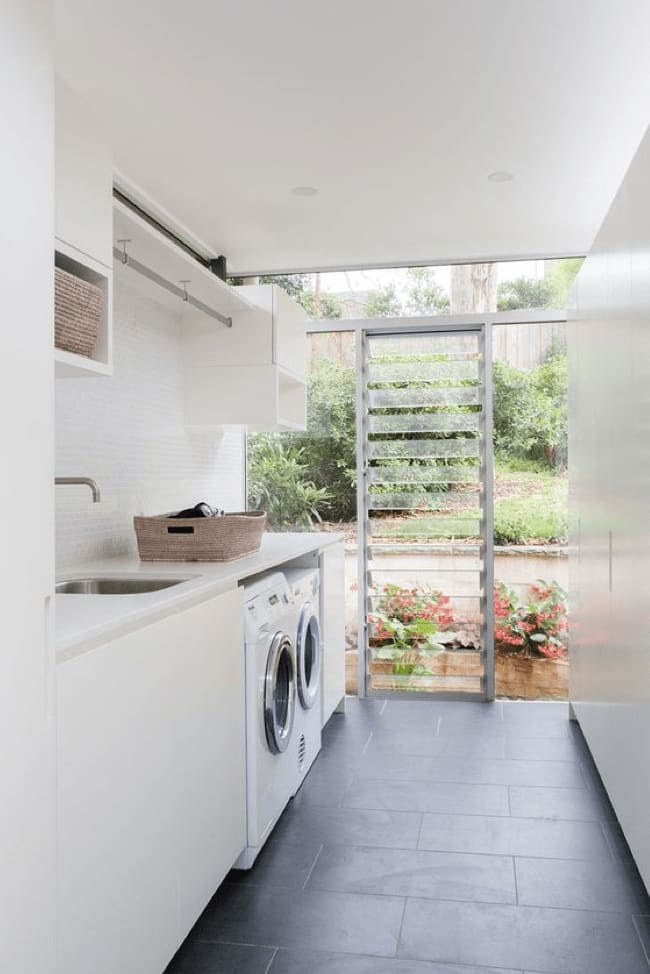 Photo Source: Unknown
For the most part, these are the bigger projects happening throughout the home. We still have a handful of projects that we are finalizing designs on. For example, some serious landscaping upgrades both in the front and in the back yard, the driveway, the roof, and the sunroom (both on the main level and in the master) are just some of the project areas still in the works. I can't wait for you all to see these ideas come to life over the next few months.

Don't forget to comment and tell me your thoughts.

Cheers.