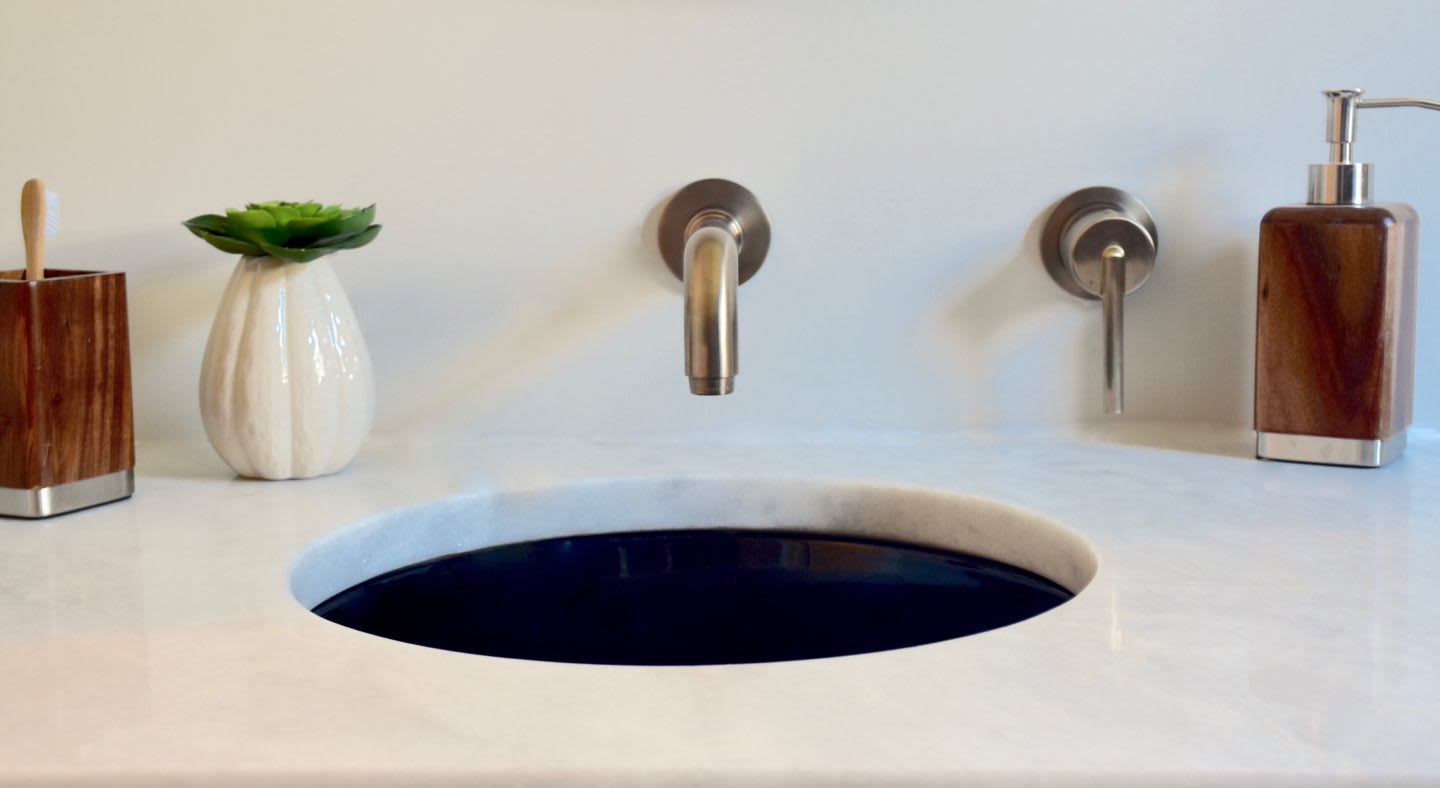 Since installing the vanity design in the downstairs bathroom raised eyebrows to some of our contractors and followers, I thought it would be a great topic for one of my first posts. It was a heated debate I wasn't willing to lose and in the end everyone was thankful for it.

When it comes to design, it's extremely important to keep functionality in mind at all times. Some prefer more functionality than others, but I think we can agree that functionality doesn't always look "beautiful ". When I was designing the downstairs bathroom, I had a lot of ideas going through my head. First, I wanted the bathroom to kind of set the tone and be the statement for the first floor since it was the only bath on the main floor (the last thing you want when hosting a dinner party is for your guest to use a bland bathroom). Next, I wanted to make sure the bathroom was as functional, yet as minimalist as possible due to the limited space we were working with.

The house was built in 1939, and back then "grand" bathrooms just weren't a thing. I looked into expanding the bathroom in any direction possible. We had bedrooms on either side of the walls and plumbing running through the floor and ceiling just outside the bathroom door. With a heavy heart, we had to accept that the bathroom just wasn't getting any bigger. We were stuck with the footprint we had. To paint a better picture, when I say small, I really mean an average-size second bathroom with a shower/tub, but more in a square shape rather than your typical rectangular shape full bath off the hallway.

In the beginning design phases of the space, the first item for everyone to agree on was the vanity. It was pretty obvious that the space would benefit from a floating vanity. However, when it came to having a wall mounted faucet and no counter backsplash or tile backsplash, everyone thought I was nuts. This took a lot of convincing on my end. For those who don't know, the point of any type of backsplash around the sink area is to protect the drywall from moisture/water. Bathrooms have to have moisture resistant drywall, but that usually doesn't satisfy most people in itself. Most people immediately start envisioning what type of backsplash to add. However, I wasn't giving into the contractors that easily. So I turned to some serious research.

Of course, some of the feedback wasn't in my favor. Wall mounted faucets with a under mounted sink typically cause the most splash. I told myself I was going to find a way around this and wasn't going to be sold on the idea of having a backsplash installed, especially after seeing some content like the vanity below (sexy, right?!).

Some of you are probably asking why we didn't install tile to avoid the chunky counter top backsplash. Remember, with a small bathroom, I wanted the space to be minimalistic yet sophisticated. Tile would add another texture/dimension to the space (which I normally am all for), however, this space just really spoke to me as a "less is more" type of vibe.

After FINALLY selling the team on the idea, I had to make sure that this idea was bulletproof. Just a small design idea ended up having so many people involved to make sure our clients were going to be getting the best product we could deliver. Whether it was product selection or the height of the vanity and faucet, we were going to make this perfect. Turns out we did just that! After lots of doubt (and a few setbacks), we were able to pull together a product that checked both of my boxes from day one: sophisticated & minimalistic. I could not have a been any happier with how the vanity area turned out.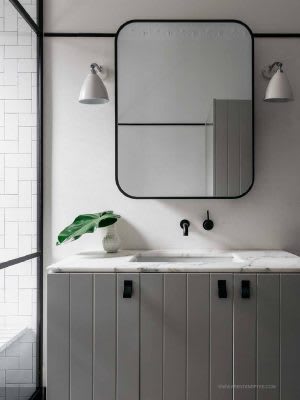 Photo Source: https://arentpyke.com/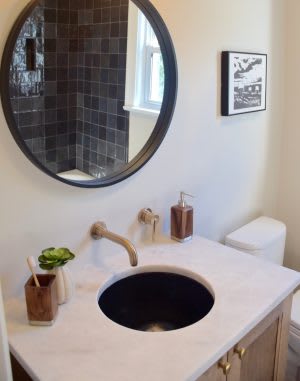 Is this is a risk you would be willing to take in your own home- weighing that option of design vs. functionality? How much functionality would you be willing to compromise on in order to have the design be at the forefront? I'd love to hear from you regarding what design idea you like better. I really can't say I love one idea over the other, but I can say that each space can benefit in it's own way from one of the design decisions. Deciding on the wall mounted faucet and having a small space coupled with the black tile, I personally think the right decision was to go minimalist! Before you comment below, check out some of these beautiful bathrooms with similar design ideas!

Cheers.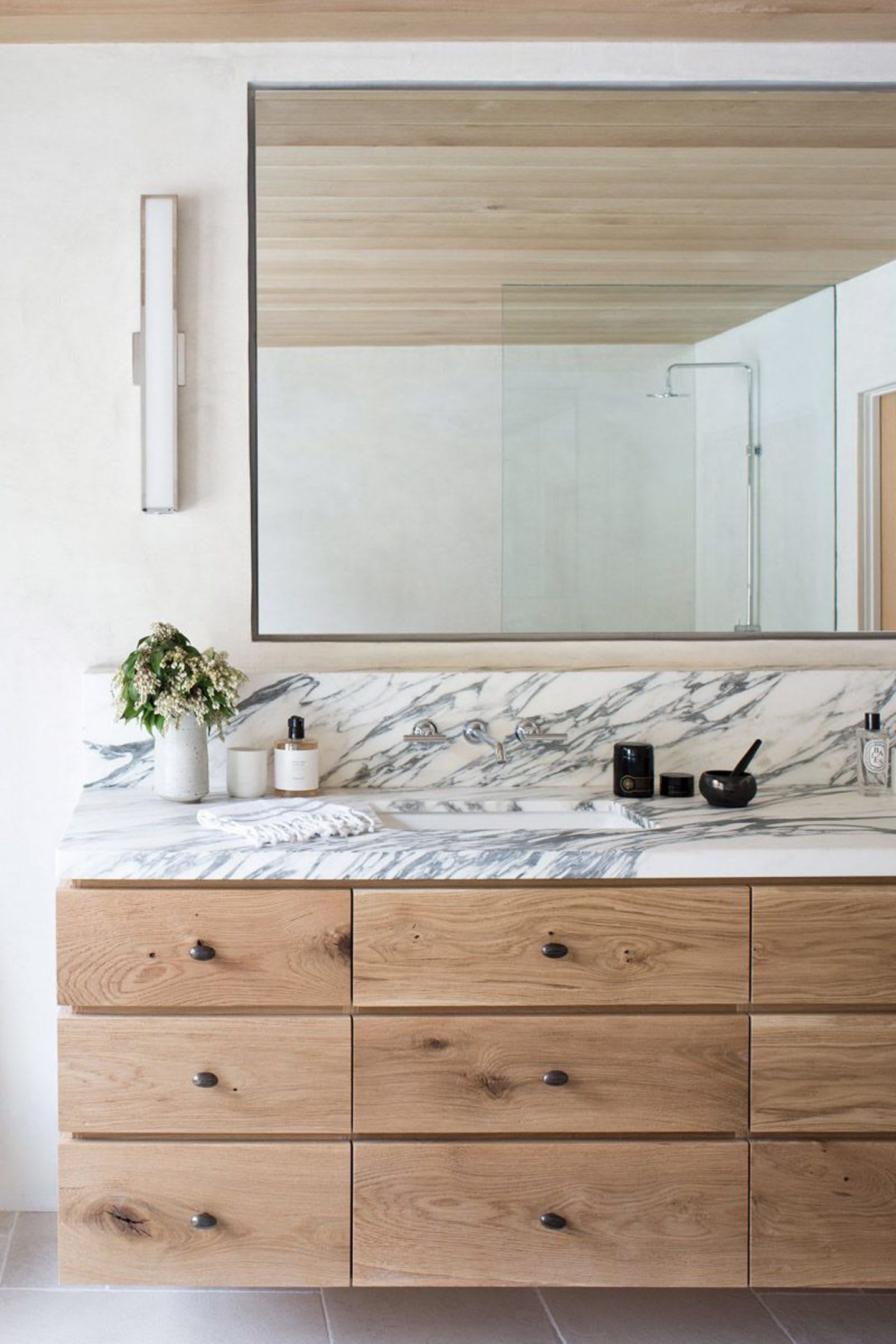 Photo Source http://www.simodesign.com/green-oak-residence/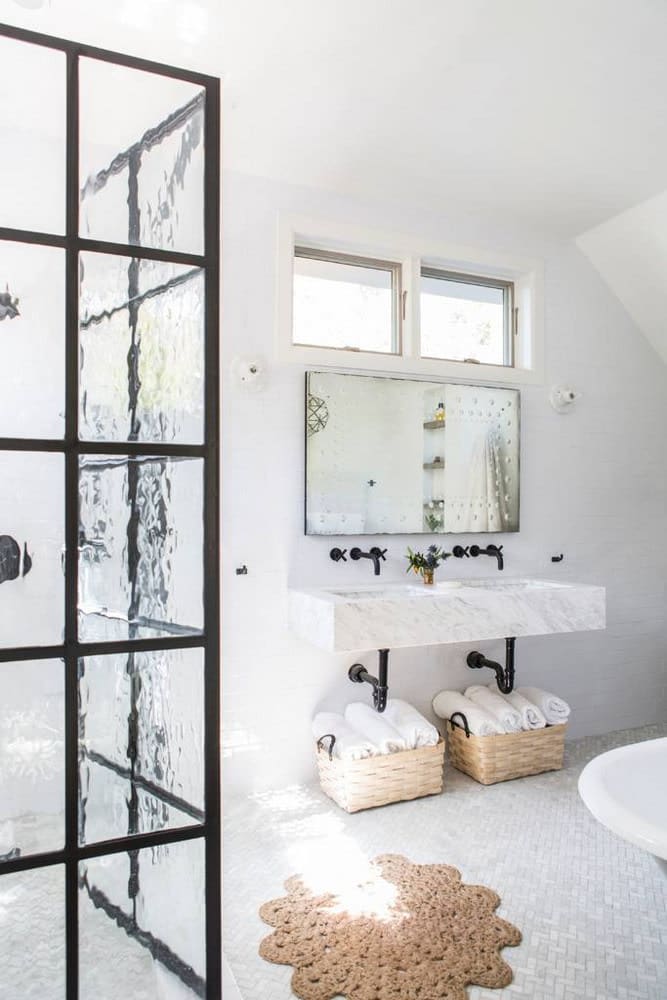 Photo Source http://www.laurejoliet.com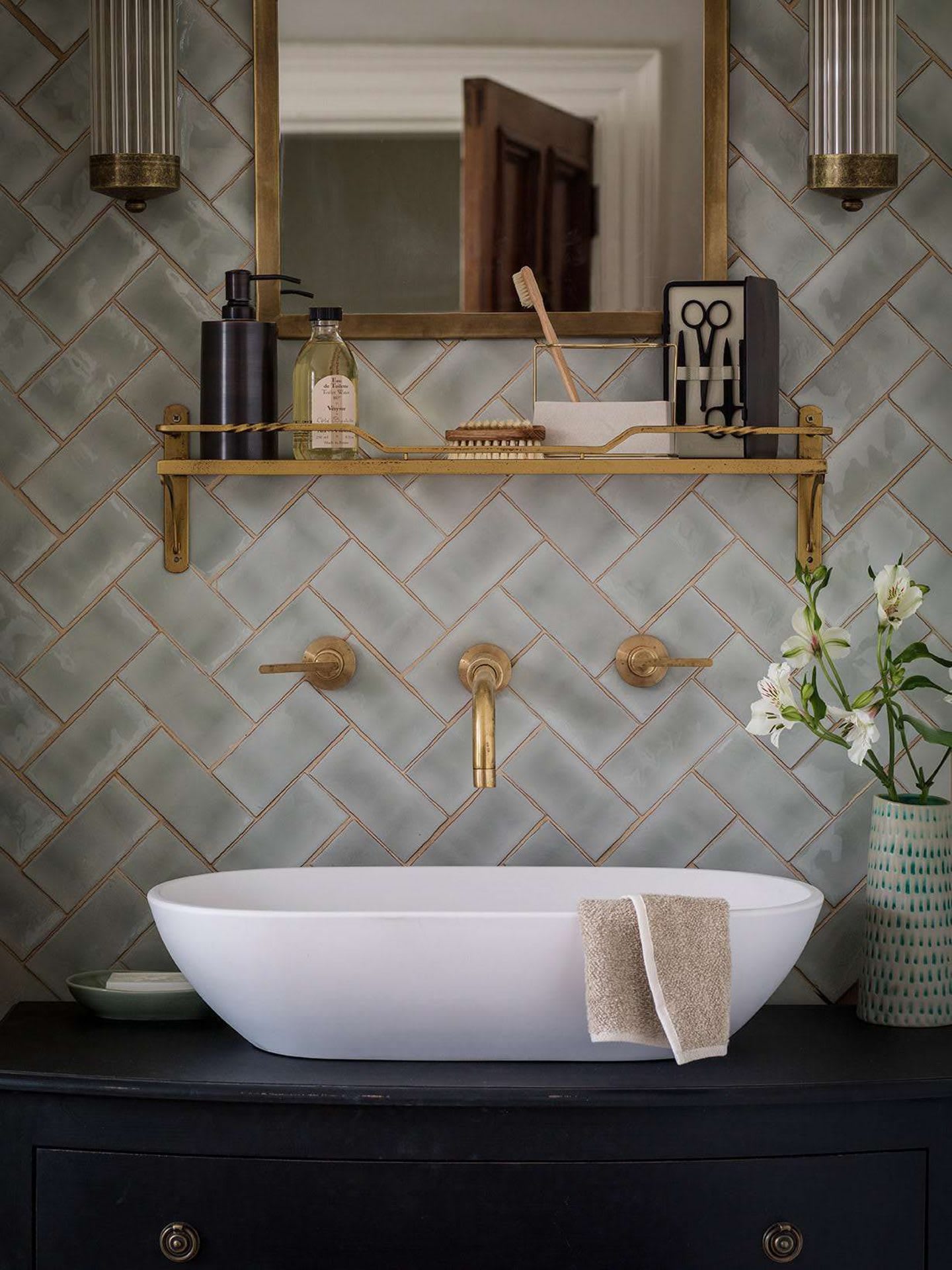 Photo Source https://www.tilemountain.co.uk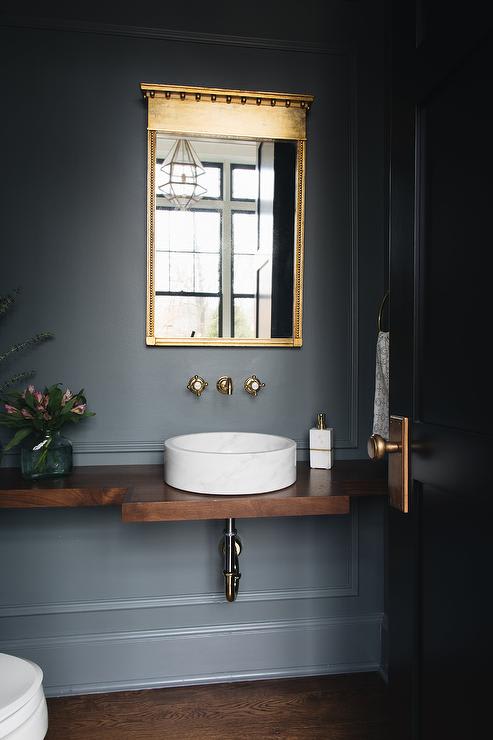 Photo Source http://www.jeanstofferdesign.com/
Photo Source https://www.architecturaldigest.com/gallery/richard-hallberg-barbara-wiseley-mailbu-california-home-slideshow?slide=1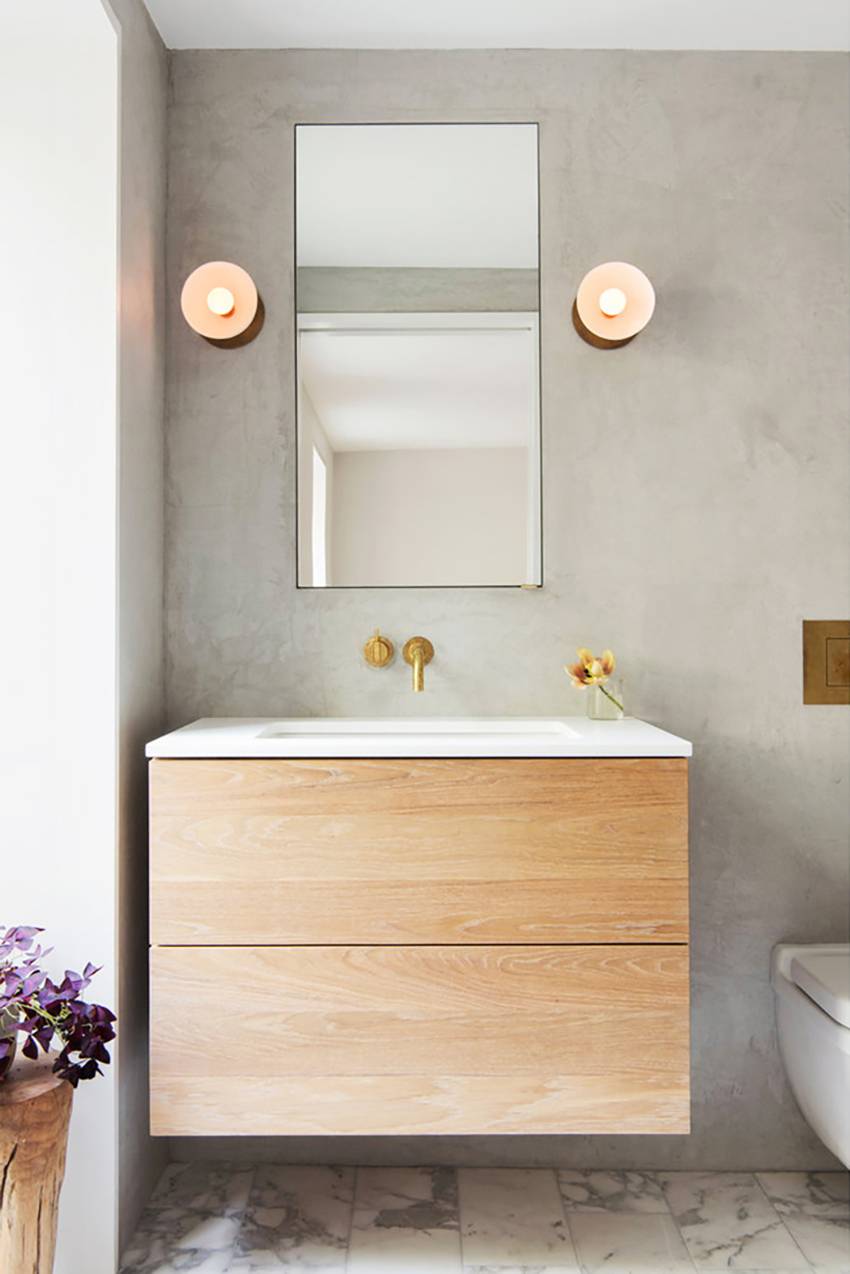 Photo Source https://www.elizabethroberts.com/